Antique 17th century watches worth more than £200,000 in total stolen in evening raid on house in south London
More than 16 watches taken from a house in Beckenham, south east London

Haul includes a Reeve timepiece which is worth £15,000 alone

BMW car also taken in the raid but has since been dumped

Timepieces said to be from 'highest end watchmakers out there'
Antique watches worth more than £200,000 which date back to the 17th century have been stolen in an evening raid.
The haul of 16 watches were taken from a house in Beckenham, south east London, along with a BMW car.
The car was founded dumped in south London two days later, but there was no sign of the watches.
These two watches alone are said to be worth £27,000. Left, is the Reeve timepiece dating back to 1630 and valued at approximately £15,000. Right, is a De St Leu, valued at approximately £12,000 from 1765
These are two Breguet watches, with the one on the left worth £15,000 and the one on the right valued at £10,000
Another set of Breguet watches, which were taken. The watch on the left is worth £15,000, while the one on the right is valued at £12,000
The timepieces include a number of French and English watches made by the 'highest end watchmakers out there'.
It also includes a Reeve timepiece, which dates back to 1630, and is worth around £15,000 alone.
Simon Kerby, an antiques watch specialist from the Gerald E. Marsh dealership in Hampshire said: 'This was obviously a very good collection.
'A lot of the watches are classic English and French makers who are also famous clock makers. These are the highest end watchmakers out there.
'The list includes many of the top names. Breguet is going to be up there as one of the best.
Among the watches taken in the haul was this Fromanteel timepiece from 1690, which is valued at £6,000
A Quare & Horseman watch, from 1705, worth £7,500 and this K. J Everell, valued at £5,000 from 1705 were also taken in the raid
Together these two watch, a Lampe timepiece, left, and a Lupton watch, right, are worth a total of £16,500. They were both included in the haul taken from the house in Beckenham, south London
'They would have been making watches since the 1700s, and some of their pieces are astonishing."
He added: "It would be difficult to sell them as a single lot in auction.
'They could possibly be sold abroad. The pocket watch collecting community is very small, there are really very few people who collect them.
'If someone came in here with a collection like that we would really want to know when they were last sold.
'I would also want to know when and how they were acquired. It would be very likely they had come up in an auction like Christie's or Sotheby's.
'You would have to be very careful where you sell them if you didn't want to alert suspicion.'
The Windmill, left from 1720, valued at approximately £6,500 while this Boucheret timepiece also from the 1700s is said to be worth £6,000
This timepiece from Tompion dates back to 1710 and is said to be worth £5,000
The Metropolitan Police confirmed that watches had been stolen.
A Scotland Yard spokesman said: 'A burglary was committed at a property in Beckenham, on Tuesday, March 4 between 5.45pm and 10.10pm during which in excess of 16 antique watches were stolen, along with a BMW.
'The car was subsequently recovered in Verney Road, Southwark on March 6.'
Mr Kerby added: 'As an antique watch collector myself, security is a concern.'
'It's something you do have to be very wary.'
Among some of the items taken were:
• Fromanteel, circa 1690, valued at approximately £6,000
• Breguet, valued at approximately £12,000
• Breguet, valued at approximately £10,000
• Quare & Horseman, circa 1705, valued at approximately £7,500
• Reeve, circa 1630, valued at approximately £15,000
• Breguet, valued at approximately £15,000
• De St Leu, circa 1765, valued at approximately £12,000
• LeRoy, valued at approximately £5,500
• Breguet, valued at approximately £15,000
• Lampe, valued at approximately £8,000
• J Everell, circa 1705, valued at approximately £5,000
• Lupton, circa 1660, valued at approximately £8,500
• Windmill, circa 1720, valued at approximately £6,500
• Boucheret, circa 1730, valued at approximately £6,000
• Tompion, circa 1710, valued at approximately £5,000
• Ellicott, circa 1775, valued at approximately £7,000
Eight Romanians charged after £1.2 million heist at Lakeside
EIGHT men have been charged with aggravated burglary following a break in at a jewellers in the Lakeside shopping centre where goods totalling £1.2m were stolen.
The Romanian nationals will be appearing before magistrates in Basildon on Monday, April 14, each charged with one count of aggravated burglary.
The men are:
Emanoil CRETU, 26, Mihai CUPTOR, 20, Claudiu-Eugen CRETU, 22, Gheorghe RUSU, 21,
Ion-Alexandru CUPTOR, 22, Costica FERESTRAUARU, 21, Ovidiu CRETU, 18, and
Dimitri SPATARU, 24. They are all of no fixed address.
Detectives are continuing to investigate a burglary at a jewellers in Derwent Parade, South Ockendon, and ask anyone with information to contact them at Grays CID on 101.
Update: Sunday 1200hrs
DETECTIVES investigating two burglaries in the Thurrock district are now able to release further details.
A total of eight men, aged between 18 and 26-years-old, who have not given addresses, were arrested in the early hours of Saturday morning in South Ockendon on suspicion of aggravated burglary and arson.
A dog unit was involved in a coordinated search of the area with other uniformed officers.
The arrests are in connection with a burglary at Ernest Jones jewellers at Lakeside and a burglary at another jewellers in Derwent Parade, South Ockendon.
Detectives believe these were well-planned burglaries resulting in jewellery and high-value watches totalling around £1.2m being stolen. Officers have been conducting extensive searches in the area and items have been recovered.
They have also been investigating some road blocks made up of tyres which had been set alight which appear to have been an attempt to distract or impede the police response.
The men remain in custody for questioning today, Sunday, April 13.
Anyone with information is asked to contact detectives at Grays on 101 or Crimestoppers on 0800 555 111.
Original story
POLICE are investigating a burglary at the Ernest Jones jewellers at Lakeside Thurrock which happened a little after 3am this morning, Saturday, April 12.
With the help of some members of the public, responding officers made a number of arrests and recovered what they believe to property from the crime.
Detectives are also investigating a burglary at another jewellers in Derwent Parade, South Ockendon, which was reported just before 3.20am.
A number of scene guards are currently in place whilst the crime scene investigators carry out their tasks, including at Lakeside, but police wish to stress to shoppers that the majority of the shopping centre is open as normal.
Superintendent Justin Smith said, "This appears to have been a well planned burglary which has resulted in a number of arrests following some excellent work by the public and police in the early hours of this morning. Evidence is being recovered as quickly as possible from the scenes and we will be allowing areas to be re-opened to the public just as soon as we can."
Anyone with any information about the burglaries is asked to contact detectives at Grays CID on 101 or Crimestoppers on 0800 555 111.
'Highly organised' jewellery burglars grabbed everything they could carry.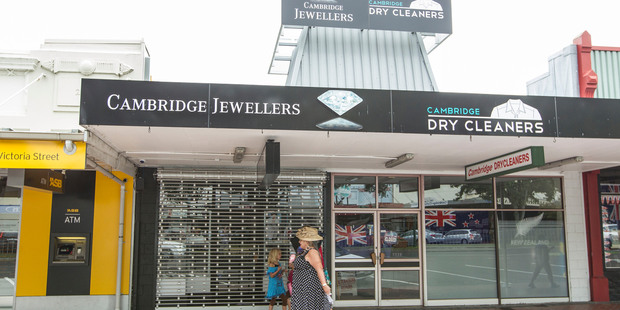 The jeweller's store is only 3m back from the parade road. Photo / Michael Craig
Thieves carried out a jewellery store smash-and-grab on the royal tour route just hours before yesterday's parade.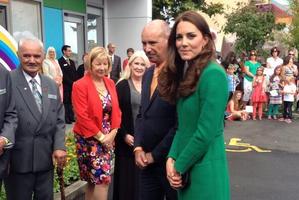 Ten hours before a silver limo carrying the Duke and Duchess of Cambridge drove through Cambridge's main street, a local jewellery store was burgled and more than $100,000 worth of watches, diamond rings and jewels were stolen.
Thieves smashed in the back door of family-owned Cambridge Jewellers around 2.40am, grabbed everything they could carry and were out quickly.
The shop's back door was only 10m from Victoria St, where the royal procession passed huge crowds yesterday.
The store is 100m from the town hall, where the royal couple stopped for lunch, and 60m from the war memorial where William and Kate each laid a rose.
Several monitored alarms were triggered during the break-in.
Witnesses who saw two people wearing hoodies in the store alerted police.
Police say the break-in was coincidental, and not a royal-tour security breach. The store was searched and secured after the break-in.
Waikato police spokesman Andrew McAlley did not believe the thieves were taking advantage of police attention being focused on the royal tour.
"I think quite the opposite is true, with police able to act quickly because there were so many officers in the area."
Police were investigating reports of a dark-coloured Mitsubishi Galant leaving the scene. A burnt-out car of the same colour and model was found hours later on a rural Cambridge road. Forensic officers were examining the car.
Store owners Andrew and Katrina Haultain said the break-in was highly organised by thieves who knew where expensive jewels were.
"They smashed the back door down and went for higher-value items. They knew where everything was," Andrew Haultain said.
"They took wedding rings, watches, diamond rings, coloured stone rings, Tissot watches, Seiko watches and Pandoro jewellery," he added.
"They smashed and grabbed and only left behind what they couldn't carry."
Katrina Haultain said last night that no one had been arrested but blood was found in the store, probably the result of a thief cutting themselves after smashing a cabinet.
A former head of royal protection for London's Metropolitan police, Dai Davies, caused a furore this week when he blasted Governor-General Sir Jerry Mateparae for publishing details of Kate and William's itinerary.
Last night, Davies said he would not regard yesterday's Cambridge break-in as a security breach, but he stood by his earlier comments.
"You simply can't secure everywhere — but that's the whole point of not disclosing routes."
UK: Gang of men who wore burkas in huge designer watch robery face the law
By
: Kieran Corcoran
Source
:
http://www.dailymail.co.uk/
An 'audacious' gang dressed in burkas and posed as wealthy Muslim women to steal designer watches worth more than £1.4million from Selfridges, a court heard Thursday.
Customers and staff in the world famous department store on London's Oxford Street were left 'terrified' by the smash and grab raid, the court was told.
Some of the all-male gang, armed with axes and other equipment, also allegedly wore burkas to fleece a jewellery store in Windsor two months earlier.
Four men are standing trial over the attempted robbery at Kingston Crown Court, a year after four other men were convicted for their part in the event.
Ramela Gordon, 18, Ritchie Graham, 24, Vincent Bellamy, 37 and Leon Wright, 25, all from North Londoner, deny conspiracy to rob.
Gordon and Graham are also accused the £170,000 of watch haul in Windsor.
Roger Smart, prosecuting, told Kingston Crown Court that the gang first carried out a 'well-planned robbery' at Robert Gatward jewellers in King Edward Court, Windsor.
Mr Smart said: 'The robbers, all of whom were male, wore burkas in order to disguise their identities and the equipment that they had taken with them in order to carry out the robbery.
'They smashed their way into display cabinets whilst staff and customers were inside the premises and bystanders looked on in fear as they carried out their well-executed plan.
'They stole a total of 19 Rolex watches with a value of between £3,000 and £31,650 per item.
'The robbers quickly made off, running through the streets of Windsor, one of them with an axe raised above his head, warding off anyone who may have sought to impede their escape, to a nearby parked getaway car that took them and their property back towards London from where they had first come.'
As well as stealing £175,000 of watches, the thieves caused £41,361 worth of damage to the jewellers, meaning it suffered £216,361 worth of loss, the court heard.
Mr Smart said that less than two months later the same gang, along with some new faces, 'doubtless buoyed by the success of the robbery in Windsor' targeted Selfridges on Oxford Street in central London on June 6th last year.
He said: 'The plot to rob was audacious, well-planned and carried out with the same degree of professional execution as the previous robbery.
'They made their way inside the store and smashed at showcases containing high value watches of a variety of makes.
'Members of the public and staff were terrified by their actions. The robber used the burka to disguise their identities and hide their equipment.
'Such was their behaviour and appearance that it crossed the minds of many of those who were forced to witness the robbery that the men dressed in burkas were using them in order to hide their identities while perpetrating a terrorist atrocity.'
The gang escaped using two motorbikes, a motor scooter and a BMW car, all of which were stolen.
Sam Curtin, who was still wearing his burka, and Connor Groake, a getaway driver, were arrested when their moped crashed at the corner of Goodge Street junction with Charlotte Street and they were seized by passers by, the court heard.
Mr Smart said: 'It was the quick thinking and bravery of members of the public that lead to both of them being detained, some of the watches being recovered and aided the police investigation.'
The thieves stole 143 watches worth £1,496,280 and damaged others worth £1.1million.
Mr Smart added: 'The Windsor offence was a carefully planned, sophisticated and targeted robbery.
'The robbers carried out in advance reconnaissance of intended started on April 5 2013, and an aborted attempt on April 11, before the actual robbery on April 12.
'The sophisticated and targeted planning, the use of new tools and the choice of the disguises at the Selfridges robbery show the same preparation as before.'
Mr Smart then showed the court the telephone cell site analysis of calls made by Murrain and Gordon during the reconnaissance mission on April 5th, together with data generated by automatic number plate recognition devices.
This showed both men had made a journey to Windsor from north London and back at the same time, while remaining in constant contact.
He said: 'It is more than coincidence the telephones moved with the vehicles from the north London area to Windsor and the cells providing best coverage round Richard Gatward were used.'
A ninth man, Andre Murrain, is also accused of involvement in both crimes, and will appear in court at a later date.
The trial continues.
Two decades ago, Martin Lang paid £100,000 for what he thought was a painting by Marc Chagall—a reclining nude, dated 1909-10. Recently, at his son's behest, Lang
submitted the painting
to the producers of the BBC art program "Fake or Fortune?" Unfortunately for Lang, "Fake or Fortune"'s analysis came up fake: it showed that
the painting's blues and greens
used pigments only developed in the 1930s.
Upon this discovery, Lang was issued a writ by the Chagall Committee—based in Paris and headed by Chagall's two granddaughters—which is the only body with the authority to declare the authenticity of a Chagall. Now that Lang's painting has been shown to be a fake, what does the Chagall Committee want with it?
Well, they want to burn it.
If the committee finds a piece to have been forged it should, according to some magical and arcane and very, very French law, be burned in front of a magistrate. Italy and China also
sometimes order
the destruction of fakes. It's rarer in America, although already this year work by
Richard Prince
was ordered destroyed—not because it was fake but because it was said to infringe on copyright.
But sometimes you can't get your hands on your own fakes.
Jasper Johns is now 83 years old, and he lives in Sharon, Connecticut. At the end of January, he came back down to Manhattan
to testify
in federal court against Brian Ramnarine, a 60-year-old native of Guyana and the former owner of Long Island City's Empire Bronze Art Foundry. Ramnarine is accused of wire fraud. He tried to sell a fake Jasper Johns sculpture that he made, for $11 million.
Johns' first "Flag" painting was done in the mid-1950s, in a fertile period when he was involved with Robert Rauschenberg and they were working in studios down at the foot of the Brooklyn Bridge; that "Flag" is now owned by the
Museum of Modern Art
. "White Flag," done in the late 50s, was sold to the
Metropolitan Museum of Art
for an undisclosed sum in the millions of dollars. "Three Flags" you have probably seen at the
Whitney
. You have probably not seen the one
owned by Steve Cohen
.
In 1960, Johns made a "Flag" painting using a material called "
sculpt metal
." Sculpt metal, as described by Johns in his witness testimony, is a kind of a lacquer that has the consistency of toothpaste. "It can be spread with a knife or with your finger or it can be thinned with a solvent and brushed on some material," he said. "When it dries it can be polished and it resembles metal." That was when Johns was being helpful on the stand. (To defense lawyers, he was less so: Q. "Much of your work is valued in the millions of dollars?" A: "Is that a question?")
Johns gave the sculpt-metal "Flag" to Rauschenberg; shortly thereafter he borrowed it back to use it to make a sculpture. Because he had done the piece using sculpt metal, Johns was able to take a mold of the surface of the painting. He poured plaster into the mold; he then removed the plaster and had a 'positive' of the surface of the painting, which he gave to a foundry. The foundry made four copies of that positive in bronze. One would be given to John F. Kennedy.
Two decades later, Johns had another mold made—this one a negative—by "a very fine mold maker," a woman he said had been working on the restoration of the Statue of Liberty with her father.
(A positive mold—such as the one used to create the first four copies of the sculpt-metal painting—is pressed into the ground, creating a depression which is then filled with metal. A negative mold is one into which metal is poured directly. Now you know!)
Sometime around 1987, Johns brought that mold to the
Polich Tallix foundry
. They cast a "Flag" sculpture in silver and returned the mold to Johns. A few years later, sometime around 1990, Johns began to consider casting a "Flag" sculpture in gold.
Johns approached Brian Ramnarine with the idea—they had worked together before on "a number of projects," Johns said. Johns lent the mold to Ramnarine, who made a wax cast—a kind of a test run—which he delivered to Johns and which Johns kept in his refrigerator. Ramnarine did not, however, return the mold.
Sometime in the early 90s, an art dealer came to Johns with a bronze copy of "Flag," asking him to authenticate it. Johns refused and sent the man away, though not before crossing out a fake signature on the back of the sculpture.
At the trial, the prosecutor showed Johns this forged sculpture once again.
"Is this your sculpture?" he asked.
"Its source is mine, from my work," said Johns. "But it's not mine."
The art dealer who visited Johns wrote him a series of "increasingly desperate"—Johns' words—letters from 1994 to 1996. In 1995 he even sent Johns a portrait that he (or someone else) had done of the artist. Johns responded twice, denying to authenticate the sculpture both times. At one point he sent his longtime assistant James Meyer to retrieve the mold, but Meyer was unsuccessful.
The identity of this art dealer—now deceased—is unclear. Johns remembers him as a relative of Ramnarine's but didn't use his name in court. During the cross examination, however, one of the defense attorneys used the name "Mike Harpul" to refer to this individual. In its trial coverage the Associated Press declined to use a name, referring only to a "relative" of Ramnarine's; the
Wall Street Journal
, however,
does give this individual a name
, albeit in a different form than that recorded in the court's official transcript: "Sendupt Harpaul."
In any event, after spending the previous half-decade denying this man's—and, presumably, by proxy, Brian Ramnarine's—requests to authenticate the bronze "Flag" sculpture, Johns got Ramnarine's wax cast out of his fridge and took it to a woman named Paige Tooker, who used it to cast a "Flag" in white bronze.
At some point in the intervening years, Ramnarine forged a second "Flag" sculpture—a fact of which Johns only became aware after he was informed by the FBI in 2010. This sculpture was not only inscribed with a signature but also identified as an artist proof: "AP 1/1."
Ramnarine (or someone else) also forged Johns' signature on documents purporting to authenticate the sculptures. It's possible that it was someone else because Ramnarine is illiterate.
Four days after Johns testified against him, Ramnarine changed his plea.
Brian Ramnarine faces up to 80 years in prison and as much as nearly a million dollars in fines. He has pleaded guilty to three counts of wire fraud, and it is up to the judge to decide whether he will serve his sentences for each concurrently or consecutively. The sentencing will take place May 30th at 10 a.m., if you are into that kind of thing.
But why is the penalty so steep? For one thing, wire fraud is a felony—and a federal offense at that—and Ramnarine copped to three counts of it. The feds had offered him a deal in 2012 but he declined. Whatever they offered him then is gone now. Moreover, Ramnarine was already under investigation for the first offense (the charges relating to Johns) when he committed the alleged fraud relevant to the second two counts.
It's odd that Ramnarine turned down the deal offered to him in 2012—after all, he took a deal in 2003, the first time he was staring down federal charges.
"He's a tremendously mean person," one former employee told
the Queens Chronicle
back in 2003, when Ramnarine was first busted selling fakes. "He has absolutely no shame."
When he changed his plea on the 27th, Ramnarine tried to introduce a new character to the story.
"I met an art broker, Adam Stolpen, and he was trying to sell the American 'Flag,' and I said, 'Fine,'" Ramnarine said.
The judge wasn't having it.
But why would an art broker be interested in a forgery? Particularly when, in Johns' case, there was so much legitimate work on the market already, and what's more, quite a bit of
stolen work
, as Johns' studio assistant James Meyer—the fellow that Johns had once sent to retrieve the forgery—was accused of sneaking at least 22 works straight out of the studio.
"Profit margin on fakes and stolen art means it comes in handy when business is tough," Paul Hendry told me over Skype. "Turbo Paul," as he is known, is the proprietor of the blog
Art Hostage
and claims to be a former trafficker of stolen art. The sale of forgeries, fakes, and unauthorized copies, Hendry said, "can be a welcome bonus because those deals are mostly cash oriented, off the books." In other words, fakes cost little, and sell quick.
"Temptation, human nature of something for nothing depicts why the allure of a quick buck overrides sense," he said.
And what's an artist to do? Johns' art dealer, Leo Castelli, died in 1999, and he hasn't had a guiding relationship like that since, though he works in a limited capacity with Matthew Marks Gallery. So when Johns was first approached by Harpul, or Harpaul, or whoever this art dealer was with the forged "Flag" sculpture, he contacted the Art Dealers Association in New York.
"They were not extremely helpful," he said.
Lock of Napoleon's hair among artefacts stolen from historic Victorian homestead
Priceless artefacts from Napoleon Bonaparte have been stolen from a museum on Victoria's Mornington Peninsula.
Burglars broke into The Briars historic homestead in Mount Martha on Thursday night and tripped an alarm.
Police believed the thieves had gained access through a bathroom window.
Facts about Napoleon Bonaparte

Born August 15 1769 in Ajaccio on the island of Corsica
Rose to prominence in the final stages of the French Revolution
Took political power in a coup d'etat in 1799, installing himself as First Consul
Ruled as Emperor of France from 1804 to 1814
Fought a series of wars to give France a dominant position in Europe
Suffered military failures in the French invasion of Russia in 1812 and the Peninsular war 1807-1814
In 1813 a coalition of countries defeated him at Battle of Leipzig and France was invaded
Napoleon was banished to the Italian island of Elba
He escaped and returned to power but was finally defeated in the Battle of Waterloo in June 1815
He spent the final six years of life on the island of Saint Helena in the south Atlantic Ocean
Napoleon died on May 5 1821 - there was a theory about arsenic poisoning but an autopsy said he died of stomach cancer
The collection of artefacts was put together by Dame Mable Brooks who was the great-granddaughter of Alexander Balcombe.
"Alexander Balcombe settled here [in Australia] in 1846 and sat on Napoleon's knee as a little boy," said museum coordinator Steve York.
"The family were good friends with the emperor when he was sent into exile on St Helena."
Napoleon stayed with the family while waiting for his own residence to be completed.
Mr York says 10 items were taken from the collection, including locks of Napoleon's hair and a silver inkwell set with three gold Napoleons which were allegedly in his pocket when he died.
Some miniature portraits of Napoleon and Josephine were also taken.
"Really they're priceless because they can't be replaced. We're quite distraught. Irreplaceable," Mr York said.
"We've now relocated the rest of the collection.
"This has proved it's vulnerable and so it's now being relocated to secure it until we look into improving the physical security in the future."
Detective Senior Sergeant Michael Lamb says security was on site within 10 minutes of the alarm going off and the offenders were gone.
"We think this was a fairly targeted theft," he said.
"They will be very difficult to dispose of publicly so we're asking for anybody who has been approached by anyone with these rare artefacts looking to sell them to contact Crime Stoppers."
Detective Lamb says it was a well-planned operation.
"We think they knew what they were looking for," he said.
"We think its probably destined for a private collection. It could well be stolen to order."
Mr York says the collection has become very popular since the major exhibition at the National Gallery of Victoria last year.