Brothers/Siblings Implicated
Authorities in Paris have arrested
Kim Kardashian's
chauffeur and his brother as they focused Tuesday on a possible inside job into the theft of more than $10 million from the reality TV star.
Officials confirmed the arrest of the driver, Michael Madar, 40, and his brother, Gary Madar, 27,
among 17 people taken into custody
Monday. They worked for the same livery company.
It also emerged Tuesday that two other, unrelated brothers allegedly disposed of the swiped $4.5 million ring, which Kardashian's rapper hubby,
Kanye West
, gave her as an anniversary gift, the
Daily Mail reported
.
The unidentified brothers – who are in their 50s and live in the Parisian suburb of Raincy – were "involved in the diamond trade, and are thought to have handled the stolen jewelry," a law-enforcement source told the paper.
"Their homes have been searched from top to bottom, and so has a jewelry shop in Paris which is also linked to them," the source said. "The jewelry has not yet been found — but these brothers could lead us to it over the coming days."
The brothers were believed to be frequent visitors to the Belgian capital of Antwerp, known as the diamond capital of Europe.
"It's a town where jewelry can be sold on with no questions asked," the source said. "The men know the industry inside out, and may well know exactly where the ring went."
The 20-carat Lorraine Schwartz ring is engraved with the word "Adidas," as West had requested.
The latest developments come after Monday's coordinated raids in and around the City of Lights, as well as in southern France that netted the arrests of 17 seasoned criminals ranging in age from 23 to 72.
Several were known for prior robberies and other crimes, according to a police document seen by The Associated Press.
Police confirmed reports that the chauffeur would have known all of Kardashian's movements – strengthening the theory that the heist was an inside job.
Pierre B, the 72-year-old alleged ringleader, was busted after cops broke down the gate of his mansion in Plascassier, a village in souther France, the Daily Mail reported.
Meanwhile, it also emerged that the key witness in the case has not been called because French authorities would not grant him a temporary visa to re-enter the country.
Abdulrahman, the Algerian
concierge who was tied up and forced at gunpoint to give the robbers access to Kardashian's apartment
at the
Hôtel de Pourtalés
, left for Algeria in November to recover from the stress of the experience.
Investigators have not contacted the 39-year-old to identify the suspects, and his attempts to return to France to speak with police have been rejected, the Daily Mail reported.
"Before leaving France, the judge in charge of this case told my lawyers that I should renew my residence permit so I can travel quickly for the investigation purposes," he told the paper.
His lawyer, Henri de Beauregard, said: "He had a visa that expired in November, and when he applied for a new one, he was refused. He doesn't want to stay in France for long, he just wants to come and be available for the investigation and help the police.
"A victim is a victim. He is no less a victim than Kim – he has a right to face his aggressor," he added. "I don't know if this is incompetence or just a bad decision. He is the best witness, he saw the criminals much longer than Miss Kardashian. I hope the police have a lot of solid proof and evidence, because if they don't, it will be seen as a crazy decision."
Police arrest 16 people over Kim Kardashian Paris heist, including '72-year-old man'
Sixteen people have been arrested in

France

over the robbery of reality TV star

Kim Kardashian

after DNA from a mislaid jewel led them to the suspected thieves, the French media has reported.
One of the suspects is aged 72, police are reported to have confirmed.
Armed masked men robbed the 36-year-old star of €9 million (£7.8m) worth of jewellery – including her 20-carat wedding ring – after tying her up in her Paris apartment early on October 3.
According to reports, a total of 16 people were arrested thanks – in part – to DNA traces left behind. RTL said the perpetrators, some disguised as police officers, had left the scene on foot and on bicycles.
At the time, police said a gang of five assailants – wearing ski masks and clothes with police markings – struck at about 3am inside the exclusive apartment block where Ms Kardashian had been staying while attending Paris Fashion Week.
Police said the robbers were a "mixed bunch" – mainly in their 50s with the oldest thought to be 72 years old, according to Le Figaro. And Le Point described the men as "veteran guys from the housing estates and people from the travelling community".
The arrests reportedly took place in Raincy, in the northeastern Seine-Saint-Denis suburb of Paris, Vincennes to the East, as well as Rouen, northern France and Grasse – France's perfume capital on the Riviera.
While the robbers appeared to be highly professional, they did leave at least one DNA print in the flat – on a clamp used to bind Ms Kardashian.
Then during his getaway on a bicycle, one of the robbers had a fall and dropped a plastic bag carrying the jewels. He hastily picked them up but forgot one diamond-studded pendant valued at €30,000 (£26,000), which a passer-by handed in hours later.
Forensic experts were able to match a genetic fingerprint on the pendant to a known criminal.
"One of the prints matched an individual known to police for hold-ups and common law cases – a high-level gangster," said a police source.
Thanks to the DNA, French detectives were able to watch an attempt by one of the gang to sell a stolen jewel to a potential re-seller, according to Le Point.
Police can hold the suspects up to 96 hours as part of the investigation already opened into "armed robbery by an organised gang, sequestration and association with criminals".
An investigating judge may now travel to New York to interview Ms Kardashian in light of the arrests, according to Le Monde. It is not known if any of the jewels have been recovered yet.
Friends had said Ms Kardashian was deeply traumatised by by the robbery, during which her bodyguard was in another part of Paris, and had left Paris the next morning.
Kanye West was on stage at the Meadows Music and Arts Festival in New York at the time of the robbery. He abruptly ended his set, telling fans: "I'm sorry, family emergency. I have to stop the show."
Her once-active Instagram and Twitter accounts remained untouched until January 3 when activity resumed. She posted a photo captioned "family" of her and husband Kanye West with their children.
The reality star also returned to Snapchat, posting her first selfie of 2017.
Woman finds she is missing £7m gold after Hatton Garden raid
The claim would mean a total of £21m of gold, diamonds and other jewellery were taken in the London heist.
A woman has come forward after realising £7m of her gold is missing - 20 months after the heist at a Hatton Garden jewellers.
The woman has claimed one of her safety deposit boxes had been stolen and she only realised it was missing after the trial of the gang who carried out the raid.
The claim, which is being treated seriously by police, would mean the total stolen in the heist stands at around £21m.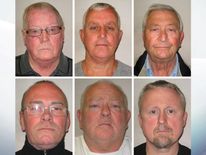 Seven men were convicted last year over the break-in at Hatton Garden Safe Deposit, and jailed for terms of six and seven years.
The gang ransacked 73 safe deposit boxes after using a drill to bore a hole into the vault wall during the meticulously-planned heist, taking gold, diamonds and sapphires.
More to follow........................
How Donald Trump Spent New Year's Eve With a Convicted Art Thief
"Joey No Socks" Cinque has a checkered past.
What was the president-elect doing on New Year's Eve? Hanging out with former art thief Joseph "Joey No Socks" Cinque at Mar-a-Lago, Donald Trump's swanky Palm Beach, Florida, estate.
To mark the occasion, Cinque presented Trump with a large painted statue of an eagle, which he dubbed a "one-of-a kind bronze Eagle award," on behalf of the American Academy of Hospitality Sciences, reports the
Daily Beast
. Cinque is director of the for-profit organization, which bestows Star Diamond Awards, the self-described "most prestigious award of true excellence," to high-end hotels and restaurants.
According to a profile published in
New York
magazine
in April 1995, however, Cinque also has a checkered past, with one colorful incident involving fine art:
In 1989, Cinque was arrested on felony charges; police had retrieved a gallery's worth of stolen art from his apartment. Though police had arrived armed with a search warrant, Cinque had refused to let them in—so they'd called in a battering ram and broken down his front door. Inside they'd found two Chagall prints, valued at more than $20,000 apiece, that had recently been stolen from the Center Art Gallery on 57th Street, and a $9,000 Cecille Schatzberg sculpture stolen from the Lever Brothers Gallery on Park Avenue.
Cinque was convicted of a felony for possession of stolen property, and received a "conditional discharge" in 1990, reports
CNN
.
In May, Trump denied knowledge of Cinque's criminal past. "If a guy's going to give you an award, you take it," he told the
Associated Press
. "You don't tend to look up his whole life story."
In addition to having accepted Star Diamond awards for over a dozen of his golf courses, hotels, casinos, and private clubs, Trump was reportedly listed as an "ambassador extraordinaire" on the American Academy of Hospitality Sciences website as recently as 2015.
According to
CNN
, Trump praised Cinque in a 2009 promotional video for the academy, saying, "There's nobody like him. He's a special guy." The former felon also judged the 2008 Miss Universe Contest alongside Trump, and attended the businessman-turned-politician's 59th birthday party.
At Mar-a-Lago, Trump reportedly gave a speech on stage with Cinque, repeating his campaign promises to lower taxes and
build a wall
, informing guests, "all I can tell you is we're gonna do a good job."
Found Levitan's paintings stolen in Museum PLICSCOM

In the course of military operations of police, FSB and Regardie was detained robbers, suspects in the theft of five paintings from the Museum Leviathan in Plyos. Picture found
the Official message about the successful completion of the operation appeared today on the website of the MIA of Russia. The paintings of Russian painter Isaac Levitan stolen 2.5 years ago from a Museum in the Ivanovo region, was discovered after the arrest of suspects in a cottage in the Moscow region.
On account of criminals, according to the interior Ministry, — robbery at a Bank in Nizhny Novgorod, attacks on collectors, and on employees of traffic police. The suspects in these crimes was 33@- 37-летний residents of Nizhny Novgorod. Together with them, police also detained 29-летний a resident of one of the Neighboring countries under investigation. Criminals found during the search of "a Quiet river" by Levitan. And later in Nizhniy Novgorod security officers was discovered the other four stolen painting of Isaac Levitan.
Adds that the Museum robbery in our day have little to no economic sense. To sell with the noise of the stolen paintings and drawings is almost impossible, and the existence of a certain of a developed "black market" things like — is rather an exaggeration. Collectors in life not buy such, and unskilled attempts to sell stolen paintings or fuss with their transportation rather withdraw the police on the trail of criminals. So recently
, Ukraine
with the stolen Italian paintings. So it was with the paintings,
stolen in the Munch Museum
. Sooner or later caught. And those who were trying to sell. And those who tried to blackmail the government, threatening the destruction of masterpieces. Criminals operating in Russia the lack of a unified public or paid information databases of stolen valuables. Now the information about the missing
apply via our forum
,
groups on Facebook
,
the website of the Ministry of culture
and
other channels
. Single point of collecting information yet. But I think it's only a matter of time.
In the case of theft is a frequent problem complicating the search for and dissemination of information about the incident, is the simple lack of high quality photos and detailed descriptions of the works from the owner. It often happens that the picture hanging on the wall over the years, pleases its owner, and describe her simply do not come to mind: neither the picture, nor the exact size to remove. Perhaps not useful. Even more likely. But every story with the abduction or loss of the paintings is a "bell" that every collector and every owner of works of art is useful to concerned with this issue. Just in case. Let it be at hand.