Exclusive - Romanian expert believes three artworks from Dutch heist destroyed
BUCHAREST (Reuters) - Romanian experts believe that three out of seven paintings stolen last year from a Dutch museum, a haul that included works by Picasso and Monet, have been destroyed by fire, the team's head told Reuters on Monday.
Their findings appeared to back testimony by the mother of a Romanian suspected of leading the robbery that she had burnt the paintings to protect her son as police closed in.
"We gathered overwhelming evidence that three (of the seven) paintings were destroyed by fire," said Gheorghe Niculescu, head of the team from Romania's National Research Investigation Center in Physics and Chemistry, which has been examining ashes found in the police investigation.
However, he could not say which of the seven paintings had been destroyed and did not explain how he was certain that the remains originated from works stolen from Rotterdam's Kunsthal museum last October, rather than other paintings.
Also among the stolen artworks, estimated to be worth tens of millions of euros, are pieces by Matisse, Gauguin, Lucien Freud and Meyer de Haan, a 19th century Dutch artist.
In one of the most dramatic art thefts for years, the thieves broke into the Kunsthal building, somehow evading its sophisticated alarm system. None of the seven works has been found.
Romanian police said this year that they had detained members of a gang they suspected of carrying out the robbery. Soon after, Olga Dogaru, the mother of the alleged ringleader, told prosecutors she had burned the paintings to destroy evidence that could incriminate her son.
Prosecutors said they did not know if Dogaru's testimony was true or a trick to throw investigators off the scent and could not reach any conclusions until experts had completed tests on ashes recovered from an oven at Dogaru's home.
Until Niculescu spoke to Reuters on Monday, none of the experts involved in examining the ashes had given a firm view on whether any of the paintings had been destroyed.
Niculescu said he was now sufficiently confident that three had been destroyed that his department, a unit of the culture ministry, would be submitting a detailed report to prosecutors this week.
NAILS IN THE ASHES
He said nails used to fasten the canvases to their wooden frames, recovered from the ashes in Dogaru's house, had been a crucial piece of evidence. "Their shape, the way in which they were manually manufactured and the metals they were made of, lead us to our conclusions," he said.
"We used X-ray fluorescence, X-Ray diffraction techniques, electronic and optical microscopy. I also got the best opinion of the national arts museum expert and there's no doubt here."
"Also Prussian Blue, a paint pigment discovered around 1715 and used on a large scale by painters from around 1750 ... which we found in very small traces of canvas, supports the case," Niculescu told Reuters.
The works stolen were Picasso's "Tête d'Arlequin", Matisse's "La Liseuse en Blanc et Jaune", Monet's "Waterloo Bridge, London" and "Charing Cross Bridge, London", Gauguin's "Femme devant une fenêtre ouverte", De Haan's "Autoportrait" and Freud's "Woman with Eyes Closed".
When they were stolen, specialists in recovering missing artworks said there was a good chance of recovering them. They said such pieces were so well known that it was almost impossible to sell them on the open market.
But the conclusion by Romanian experts that at least some of them had been burned dashed hopes that the stolen paintings could all be recovered intact.
Dogaru declared she originally buried the paintings in a cemetery near her home in the southeastern Romanian village of Caracliu. She told prosecutors that when police began searching for the paintings in the area, she dug them up and burned them in February in a stove in her home.
Romania's DIICOT government prosecuting office, which is investigating the case, was not immediately available for comment.
Police were put on the trail of the suspects by combing through security camera footage from the period leading up to the robbery, looking for visitors whose behavior suggested they might be making preparations for a robbery.
Security camera footage released at the time showed thieves entering through a back door and disappearing from the camera's field of view. Seconds later they reappeared carrying bulky objects and left the building by the same entrance.
Art heist at Ukkel's Van Buuren Museum

Dozens of valuable works of art have been stolen from the Van Buuren Museum in the Brussels borough of Ukkel.
The works include a masterpiece by James Ensor.
Thieves forced a door to gain entrance into the museum. Museum curator Isabelle Anspach:"All the alarms went off, but the thieves were pretty fast. Everything was over in two minutes".
The Ensor is valued at more than 200,000 euros. A valuable work by the Dutch master Kees van Dongen valued at 1.5 million euros is also gone. Other stolen works include a Brueghel the Younger and an Adriaan Brouwer. In all the thieves got away with over 2 million euros' worth of art.
The thieves left the most famous works in the museum. Art connoisseurs say that the thieves clearly knew what they were after and must have reconnoitered the building beforehand. Janpiet Callens says that the stolen works can hardly be traded on the open market: "Maybe the thieves were commissioned to steal particular works or they could be after a ransom."
Norwegian art theft gang charged as mafia

The royal family visit an exhibition at the Asian Art Museum in Bergen.
Bergen prosecutors have brought mafia charges against six art thieves, suspected of torching cars to distract the police during their destructive heist at the Asian Art Museum where they stole a score of invaluable historical artifacts.
The gang of six staged their heist to make sure the police was distracted while they raided the museum in January, the prosecution has claimed. Charges of aggravated theft and aggravated vandalism have been brought against the gang.
"We argued that they together planned and performed the robbery, but had different roles," prosecutor Rudolf Christoffersen told the NRK news network. "Some set fire to cars to distract the police, while others entered the museum."
Because the gang was more numerous than three people, prosecutors have decided to charge them as an organized criminal group under Norway's anti-mafia laws. The penal code allows five years to be added to a criminal sentence if the prosecutor can prove organized criminality, which means the strictest sentence that could be handed down for the robbery would be eleven years.
"The suspects who entered the museum have admitted doing so, but no one has confessed to setting the cars alight, nor has anyone confessed to being part of an organized group," Christoffersen added. Two men are being remanded in custody for the theft, while the remaining four have been set free awaiting trial, according to Hordaland police district organized crime unit head Jørn Solsvik.
Norwegian authorities are yet to find the missing items, some 20 pieces in porcelain, paper, jade and bronze, which are valued at at least 2.5 million kroner ($420,000) by the museum Vestlandske kunstindustrimuseum. Several other items on display were also damaged in the break in, when the thieves broke several glass show cabinets. They used a car that had been stolen in Oslo to make their get-away.
The local
Bergens Tidende
newspaper reported that the police had arrested the six suspects at different times. The court date has not been set, but proceedings will be held in Bergen District Court.
Art thieves have sentences cut because they lost their loot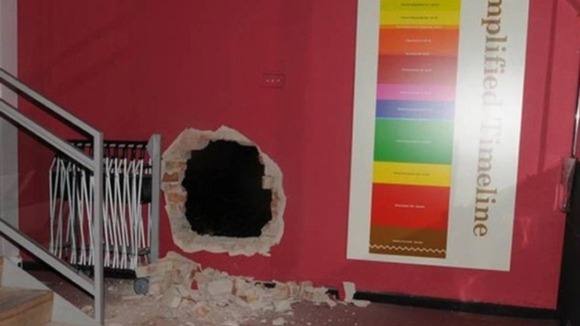 Art thieves who stole more than £1m of artefacts from a museum in Durham have had their sentences cut from eight years to seven years each - because they lost the items they had stolen.
Adrian Stanton and Lee Wildman hid their loot in a field, but then forgot where it was, meaning the items were recovered by the museum unharmed.
Judges at the Court of Appeal decided that the fact that the artefacts were returned to the museum without being damaged was a relevant factor in sentencing and decided the original tariff was "excessive" - although it was only down to their "crass ineptitude" that the items were not lost forever.
The pair had travelled up from Walsall to raid Durham University's Oriental Museum in April last year by cutting a hole in the brick wall. They took a porcelain figure and a jade bowl and hid them in nearby wasteland.
Two days later, Wildman was seen searching for the artefacts by a member of the public.
Both men pleaded guilty to conspiracy to burgle and were jailed for eight years each at Durham Crown Court in July last year.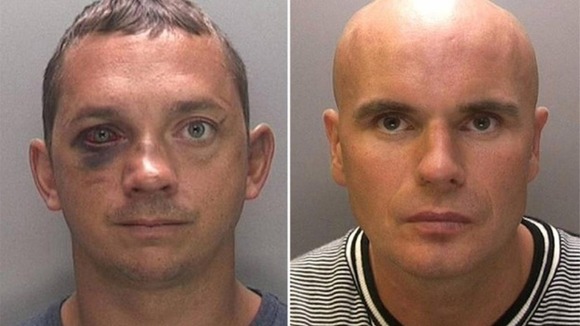 Today, their lawyers argued before Mr Justice Williams, Lady Justice Hallett and Mr Justice Jay that the sentences were too long, given that the items were recovered unharmed.
Giving judgment, Mr Justice Williams said:
"We consider that the recovery of the stolen property was a relevant factor in production of sentence.
"Nevertheless, this was a carefully planned and professionally executed conspiracy.
"We have concluded that the appropriate sentence in this case, allowing the limited discount for the guilty pleas, should be one of seven years' imprisonment."
– Mr Justice Williams-Wildman had also had a one-year suspended sentence activated, meaning he will serve a total of eight years.