Breaking News: Laughing Cavalier by Frans Hals, targeted back in October 2013, may have been stolen from Wallace Collection
£100,000 painting stolen from Kensington home in scam
A £100,000 painting was stolen from the home of an 89-year-old woman in South Kensington following a courier fraud scam.
Police are appealing for information after 'The Comet of 1858' by Samuel Palmer was taken along with jewellery and banks cards from the pensioner's house on Saturday night.
A spokesman for the Met said the elderly woman was telephoned by someone claiming her bank cards had been issued in a crime and she needed to contact her bank.
She then tried to contact her bank but the fraudster had stayed on the line and said someone would attend her address and collect her cards. They also asked if she had anything of value in the house and the victim mentioned the Palmer painting.
"Later that evening a man attended the address and took the painting, items of jewellery and bank cards," said police,
"He is described as a white man, believed aged in his 30s, approx 5ft 10inches tall, with dark hair and spoke with an English accent."
Samuel Palmer, born in London in 1805, was a key figure in the Romantic art movement in 19th century Britain, creating visionary pastoral paintings.
A major retrospective of his work was put on by the British Museum and the Museum of Modern Art in New York to celebrate what would have been his 200th birthday in 2005.
Man gets 4 years in art heist at home of financier Jeffrey Gundlach
Financier Jeffrey Gundlach was offering a $1.7-million reward for the return of art stolen from his Santa Monica home. A tipster eventually led authorities to the stolen items.
A man convicted in the theft of millions of dollars of artwork from the home of a prominent bond trader was sentenced Tuesday to four years in prison.

In September 2012, Darren Agee Merager broke into the Santa Monica home of Jeffrey Gundlach, who's considered one of the world's top investment fund managers.
Merager, 44, left with paintings, rare wine, cash, expensive watches and a 2010 Porsche Carrera 4S. He pleaded no contest to the burglarly charge as part of a deal with the Los Angeles County district attorney's office. He was facing more than nine years in state prison because of a history of felony convictions.

Prosecutors originally alleged that Merager conspired with several others, including his 69-year-old mother, Brenda Merager, the owner of an East Pasadena audio-parts shop who helped stash some pieces, although charges were eventually dropped against her. Co-conspirators, Jay Nieto and Wilmer

Cadiz

each pleaded no contest to one count of receiving stolen property. They were each sentenced to three years probation.

A pair of brothers -- 30-year-old Wanis George Wahba and 27-year-old Ely George Wahba -- also pleaded no contest last year. Wanis Wahba pleaded no contest to receiving stolen property, as did Ely Wahba to a charge of accessory after the fact. They're scheduled to be sentenced March 20.

Gundlach had offered a near-record $1.7-million reward for the return of the art collection, which prosecutors said was worth $3.2 million at the time. Gundlach estimated the value at $10 million.
Gundlach offered $1 million alone for the return of a Piet Mondrian painting called "Composition (A) En Rouge et Blanc."
All of the art, including works by Jasper Johns, Joseph Cornell, Mondrian and Richard Diebenkorn, was recovered.
The suspects were arrested on a tip about two weeks after the theft. Prosecutors said two people collected a reward, though the final amount was arranged separately through Gundlach, who was unavailable for comment Tuesday.

Gundlach was away on business during the heist, and his office said he was away again during the sentencing Tuesday.
Stolen Censer Returns to Harvard Art Museums
Image courtesy of Harvard Art Museums
After a three-year investigation
that played out "like a movie," according to Homeland Security officials, an eighteenth-century Chinese jadeite tripod covered censer that was stolen from Harvard's Fogg Art Museum in 1979 has been formally returned to the University. At a ceremony at Hoffman Laboratories today, representatives from U.S. Immigration and Customs Enforcement (ICE) officially transferred the censer back to the Harvard Art Museums, saying they were proud to "right a three-decades-old wrong."
The artwork disappeared on November 26, 1979, from a small Fogg exhibition featuring a selection of jades. In 2009, it reappeared in Hong Kong, listed for sale by fine-art auctioneer Sotheby's with a pre-auction estimate of about $500,000. (The censer had been hand-delivered to Sotheby's Hong Kong offices by a private seller, who did not provide any documentation on its history of ownership.)
Before the auction, though, Sotheby ran a search in the Art Loss Register database, and found that the censer matched the one missing from the University. The Register in turn notified U.S. law enforcement authorities. Based on recommendations from U.S. Homeland Security Investigations and the U.S. attorney's office in Massachusetts, the Department of Justice granted Harvard's request for the return of the censer this past September, four years after it was recovered. (Businessman and art collector Ernest Dane, A.B. 1892, and his wife donated the Qing Dynasty jade censer, approximately 6½ inches tall and 7 inches wide, to the Fogg in 1942. Censers are typically used for burning incense, but because this particular example is of such high quality, Cabot director of the Harvard Art Museums Thomas Lentz said during the ceremony, it was most likely made for ornamental use.)
Special agent in charge of homeland security in Boston Bruce M. Foucart, whose office led the investigation, acknowledged that the recovery of art is not something typically associated with his department, but said the undertaking represents a growing collaboration between government agencies and the art world. "Federal laws regarding smuggling give us the authority in taking the leading role in investigating crimes involving the illicit importation and exportation of art," Foucart said. "This piece has been on quite a remarkable journey."
Lentz praised government officials as well as Sotheby's for working together to ensure the object's safe return, calling it an impressive collaboration "among institutions, governments, and the art world." "These government agencies played an important role in safely returning this significant work of art, which means it can continue to be studied by those interested in art history and culture," he said. "It allows us to paint a more complete contextual picture of late imperial China. This jade censer, along with thousands of other works in Harvard's great collection, is an important resource for teaching, learning, and research across all disciplines—not only [at] Harvard, but around the world."
The censer will rejoin Harvard's permanent collections just as Harvard Art Museums prepares to open its doors as the
newly renovated Fogg, Sackler, and Busch-Reisinger Museums under one roof in the fall of 2014
. Lentz said that he expects the censer to be on exhibit within the next few years: "It will finally be accessible once again to students, faculty, scholars, and the public."
Six men sentenced in Chinese art theft
But stolen works from Norwegian museum's collection remain missing
By Hanne Cecilie Gulstad.
Six men have been convicted in the theft of around 25 works of Chinese art worth 2.5m krone ($400,000) from the collection of Kode, Art Museums of Bergen, Norway. Although the men were sentenced at the end of December to serve one to three years in prison, the collection is still missing and the galleries that housed the works remain closed.
Last January, two men broke into the China Collection at Kode, smashed display cases and stole a number of important art objects, while four men set two cars on fire elsewhere in the city to distract the police. The museum was previously robbed in December 2010, and 56 objects were taken from the China Collection.
Because the 2013 theft took only two minutes, there are reasons to believe the thieves knew what they were looking for, the museum's director, Erlend Høyersten, told the Norwegian Broadcasting Corporation. According to the art theft expert Noah Charney, interviewed in the newspaper
Bergens Tidende
, there is a market for stolen Chinese art among the newly rich in China.
The China Collection was given to the museum by General Johan Wilhelm Normann Munthe, who lived in China from 1886 to 1935. With more than over 25,000 objects, it is one of the largest collections of Chinese art in Europe, with items ranging from Stone Age artefacts to contemporary works.
ROME: Italy's cultural police, who have taken a leading role in the fight against the smuggling of antiquities, put on show a trove of recovered stolen art in Rome from Etruscan funerary urns to Renaissance paintings.
Dozens of works are being displayed in the presidential palace in the Italian capital in a special exhibition also intended to show off a police force that is called in to consult on art thefts around the world.
The force said it has the largest database of stolen works around the world -- with around 5.7 million objects -- and is planning to travel to Libya, Iraq and Syria in the coming months to investigate cases.
"The turnover from the illegal trade in art is fourth in the world after arms, drugs and financial products," said Mariano Mossa, head of the cultural police force.
Italy was the first country to equip itself with a special department to investigate art thefts in 1969 and its headquarters is in a Baroque palace in the centre of Rome that crowds of tourists pass every day.
It has 13 regional postings around the country.
Painting stolen from yacht found in collector's home
Last year the police found a painting by Russian-born Jewish painter Marc Chagall "Le Nu au Bouquet" in a private collector's home in Bologna that had been stolen from a US tycoon's yacht in Italy in 2002.
They also investigated the shocking theft of hundreds, even thousands, of rare books from the Girolamini Library in Naples that were allegedly smuggled out and sold internationally by its former director.
Among the exhibits in the Rome show was an entire Etruscan mausoleum found by builders on a construction site near Perugia in central Italy, including 23 well preserved urns with scenes from Greek mythology.
"This is one of the most extraordinary discoveries of recent years in Etruscan art," said Louis Godart,an adviser to the Italian presidency on conservation.
There is also a sculpture of Roman emperor Tiberius, stolen in 1971 and found in London 40 years later in 2011, and a triptych that disappeared from Florence in 1977 and was recovered only in 2009.
A precious vase that was found during an illegal archaeological excavation was seized as it was being handed over to a Japanese buyer by a Swiss intermediary.
These works of art "were stolen from the public in an illegal, immoral way for the purpose of enrichment," said Maurizio Caprara, a spokesman for President Giorgio Napolitano who hosted the exhibition.
Godart said the recovery of the works showed the police's "competence, enthusiasm and professionalism, but also how our heritage is extremely fragile".
Godart said Italian museums "urgently" needed more security guards, amid a rise in reported thefts during an economic crisis that has slashed culture budgets.
The Federculture association on Monday said that the cuts were "disturbing", pointing to a reduction in the state subsidies for upkeep of monuments to 75 million euros in 2013 from 165 million euros in 2008.
Private donations have also dropped during the crisis.
Thefts from churches and museums have meanwhile increased, along with illegal archaeological digs, according to a report by the Legambiente watchdog.
The exhibition entitled "Memory Regained: Treasures recovered by the Carabinieri", opens to the public in the Quirinale palace Thursday and runs until March 16.
UWS and NSW Police come together to tackle art crime
A new committee hopes to overcome a lack of expertise believed to be hampering Australia police from solving art crimes.
Police retrieve $64,000 sculpture by Chen Wenling stolen from Sculpture by the Sea exhibition at Cottesloe Beach (WA), October 2012.
Dr. Pamela James, lecturer in cultural and social analysis at the University of Western Sydney (UWS), wrapped up months of work late last year with the realisation of a new Art Crime Consultative Committee.
Working closely with the NSW Police Force, the committee will tackle the often unreported and unsolved crimes of a rather specialised sector of the underworld – art theft.
Art crime is one of the world's most expensive criminal enterprises, ranked fourth after drugs, arms and and estimated by the
FBI to be worth $6 billion a year
, according to the
FBI
. While Australia is low on the list of concerned countries, the Australian Institute of Criminology estimated in 2010 that $20 million worth of art is stolen in Australia every year. But lack of awareness many art crimes in Australia remain off the radar and of low priority. e That is all about to change.
Auction houses are not disclosing concern about art crime. Bonhams Australia chairman Mark Fraser said, 'Art theft in Australia is remarkably infrequent. It's a small marketplace, and stolen art tends to stand out very distinctly.'
But James said art crime is often not publicly disclosed, 'Public galleries often do not report theft as it could show their security as being insufficient, and private collections may not wish to publically draw attention to the value of their collections.'
The most recent high profile cases in Australia include the recovery of $1.5million of paintings stolen from Sydney property developer Peter O'Mara in a raid by police last October, and of course the disgrace of dealer Ronald Coles, who was sentences before a Sydney court last August for his multi-million dollar art fraud.
Blouin
reported that in 2000 the University of Melbourne's Department of Criminology conducted research on the illegal art market in Australia, but because of the lack of consistent reporting mechanisms for art crime were only able to suggest that "both theft and fakery are persistent problems in the art market of Australia".
James said 'The art market can unknowingly pass on stolen or fraudulent art and the criminal art market operates in a unique way, rather different to the market for other stolen goods.'
She added, 'There is no expertise in the NSW Police Force to help deal with the crime while countries such as Italy have specific taskforces. This Committee will help to equip the Police Force with the necessary mechanisms, skills and protocols to protect our art market.
'Art experts, greater training and cross jurisdictional liaison in the specialised area of art crime will all become more accessible with the formation of the Committee which will be chaired by the Property Crime Squad and include representatives from the Fraud and Cybercrime Squad, the University of Western Sydney and other relevant industry and law enforcement bodies.'
'This is an innovative, internationally unique answer to the outbreak of a niche, and often invisible, crime', concluded Dr. James of the Art Crime Consultative Committee.
The antiquities dealer accused in global art theft ring
The case reads like an "Indiana Jones" movie script. A
New York City
antiquities dealer raids archaeological sites and temples in India, Pakistan and Cambodia, and then smuggles the pieces into the United States, where they're sold for millions of dollars.
According to federal authorities, that's exactly what Subhash Kapoor did. The 64-year-old Kapoor is accused of stealing hundreds of pieces of art valued at more than $100 million, according to James Dinkins, a director of Homeland Security Investigations. That department is overseeing the case involving one of the largest art rings. "This is definitely one of the biggest, I think that we've seen in the world," Dinkins told CNBC.
Dinkins also described how Kapoor's team allegedly targeted sacred sites.
"These areas are very remote. They go in under the cover of darkness with trucks and tools, and sometimes it's actually during the excavation process itself, when they're discovering them, before the world even knows they found them," Dinkins told CNBC.
"They'll excavate them out and leave under the cover of darkness, conceal it on trucks, move it around to ports of entry, and ship it around the world."
One stolen sculpture, a rare second century sandstone of a woman, is said to be worth $15 million, according to investigators. A 1,700-pound statue of Buddha's head from the first-second century is worth $4.5 million, and an 11th century Uma bronze statue $2.5 million, according to authorities.
Indian
officials, however, refuse to put a price tag on what they consider to be priceless, national treasures.
A spokesperson for Kapoor did not respond to emailed requests for comment.
Kapoor
is not a newcomer to the art world.
He opened a gallery in New York City, Art of the Past, in 1974. For decades, he sold legitimate pieces right next to stolen items, authorities said. Several stolen pieces found their way into museums around the world. One stolen $5 million item was displayed in the National Gallery in
Australia
. Kapoor also sold and donated numerous pieces to the Metropolitan Museum of Art in New York. The museum's website lists some of the drawings as a, "Gift of Subhash Kapoor, in memory of his parents, Smt Shashi Kanta and Shree Parshotam Ram Kapoor."
A Metropolitan Museum of Art official told CNBC, "The Metropolitan received a number of gifts over the years from Mr. Kapoor, and also made some purchases—and we are currently engaged in researching the ownership histories of all of them."
The National Gallery in Australia said in a statement that it owns 21 pieces of art from Kapoor's gallery collected between 2002 and 2011 and that it will cooperate with relevant authorities.
More museums around the world are believed to house art stolen form Kapoor, authorities say.
It all started to unravel for Kapoor beginning in 2012 with several raids. Authorities at one point
intercepted a package at Newark International Airport.
The package contained a stolen statue on its way to Kapoor in New York City, authorities said. Homeland Security Investigations, or HSI, closed in and raided Art of the Past and several storage facilities in New York City. Authorities confiscated nearly $100 million in antiquities.
"We've gone into businesses and taken them off walls, the lobbies where they are displaying them. And sometimes it's even professional athletes and entertainers who have a lot of wealth and money and can afford to spend a million dollars to display an item in their home," Dinkins told CNBC.
Authorities including Shawn Bray, director of Interpol Washington, acknowledge that policing international fraud rings is incredibly difficult. "If you take a look at the Interpol database, there are of 42,000 items there. When you add up a value that you could possibly give these things, the price is staggering," Bray said. Authorities estimate several billion dollars exchange hands in the illicit antiquities market each year.
Several pieces of additional stolen Indian art—not attached to the Kapoor case—were returned this week to the Indian Consulate. Consul General Dnyaneshwar M. Mulay told CNBC about the importance of getting these national treasures back to India.
"Whatever their market value, they are invaluable historically, culturally. So that they are going back is a matter of pride and joy for our relationship," Mulay said. "It is very unfortunate that there are still people that think it is required to be taken out, stolen, smuggled in the international market. The problem is there are buyers and sellers. And both sides, the supply side and the demand side, need to be constrained, controlled, and very probable treated by the law," Mulay said.
Kapoor was apprehended by Interpol in Germany and extradited to India, where he's being held on charges of trafficking in precious idols.
Joselito Vega is accused of swiping artworks like this one before his bust in an sting that aired on the CBS reality show "Brooklyn DA"
An accused art thief caught in a criminal sting that aired on a reality show says he had an agreement with a Long Island mansion owner to sell the swiped paintings — and the TV network has the footage that can set him free.
In court documents that were to be filed Monday night, house painter Joselito Vega said the caught-on-camera theft of artwork worth $100,000 from a Kings Point estate — including a small Picasso etching — was just a misunderstanding that could easily be cleared up if CBS shared video from its short-lived "Brooklyn DA" show.
Vega, who was arrested in 2012, said he was approached by Michael Schulhof, who hired him to do some painting in his mother's stately home.
"Up until his arrest, Vega didn't believe that there was anything wrong or illegal with this arrangement," Vega's lawyer Timothy Parlatore said in the filing.
Parlatore said proof of the arrangement was in Vega's car, which he said was searched, on camera, after Vega's arrest.
The lawyer said prosecutors failed to turn over the vehicle evidence, and CBS has refused to share the footage.
The drama played out over the course of the first three episodes of the much maligned documentary series on then-DA Charles Hynes' office, which aired as Hynes was running for re-election.
The CBS web site calls the episodes "a high-tech undercover sting involving a famous art collection."
Calls to the Schulhof estate were not immediately returned.
Vega, of Easton, Pa., claims he was duped by a greedy homeowner who had promised one of the paintings, which was insured for $200,000, to the Guggenheim Museum upon his mother's death, in what the defendant said was an insurance scam.
Matriarch Hannelore Schulhof died in 2012.
The recorded theft was Vega's second trip to the house to do work. He was "hired" again after an inventory first revealed missing artwork, and he became a likely suspect.
Investigators set up hidden cameras in the Gold Coast mansion and set out artwork to entice him. Vega was videotaped stealing another three pieces of art, authorities said.
A spokesman for the TV series "Brooklyn DA" declined to comment.
Rings worth $180k stolen in smash and grab
By Patrick OSullivan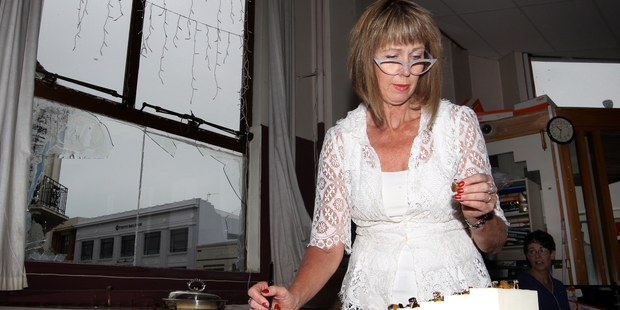 STOLEN JEWELS: Keri Mason, Napier Antique and Jewellery Centre co-owner, completes a stock-take after a $180,000 smash and grab raid.
A brazen smash and grab netted $180,000 worth of rings from the Napier Antique and Jewellery Centre yesterday morning.
The jewellery heist, which included rings valued at up to $4000, was captured on CCTV cameras and police are also appealing for any information the public can provide.
Co-owner Keri Mason said the Tennyson St shop's alarm system was not activated by the 3am intruder.
"There had been a report to the police of noise that was made and somebody walking past noticed the broken window," she said.
"We came down and there was a huge hole in the window just above our counter and our main jewellery cabinet was broken - that had 180 of our expensive rings [inside it]," Mrs Mason said.
"On the video footage you could see a guy in a black hoodie jump straight through the smashed window, through to the cabinet where he loaded up all the jewellery trays into his black duffle bag and jumped back out the window."
The theft took just 35 seconds "from when he smashed the window to when he was back out the window".
No facial features could be made out from the security video "and he was deliberately slouching".
The average retail price of the gold, diamond and precious-stone rings was $1000, but "some were up to $4000".
"I'd know a lot of them if I saw them - there are a couple of unique ones," Mrs Mason said.
She owns the shop with her sister Raewyn Dailei.
Ms Dailei said: "It was all our stock for the cruise ship season and the busiest month of the year with Art Deco Weekend."
They were underinsured for the retail value of the rings and hoped police would recover them, she said.
"We are seriously out of pocket." Detective Ross Alexander said police had good lines of inquiry but were calling for help from the public.
"If anyone is being offered jewellery and have any suspicions over its origin they should give Crimestoppers or us a call," Mr Alexander said.
Despite the theft, it was business as usual yesterday for the sisters.
"We have to sell some more jewellery to make up for it," Mrs Mason said.
The sisters have been in business together for 25 years with only one similar incident.
"When we first opened the shop 18 years ago we had a burglary where they came in the back. Even the police said they haven't seen commercial burglaries like this lately - it's usually domestic," Ms Dailei said.
The Peculiar Underworld of Rare-Book Thieves
When officials finally caught on in 2012 to the looting of the Biblioteca Girolamini, a gorgeous rare-book library in Naples, Italy, entire walls of bookcases stood empty. Thousands of books vanished into the black market, including rare editions by the likes of Aristotle and Galileo. Some turned up with their library ID marks crudely hacked out. Most are still missing today.
Nearly as shocking was the barbarian behind it all: the library's own director, Marino Massimo de Caro. A politically wired, self-taught book expert, De Caro and his cronies—allegedly including a lawyer and a priest—looted the library and destroyed its card catalogue to cover their tracks. De Caro even commissioned master forgeries of an ancient book by Galileo so he could swap them for the real thing at other libraries.
In the peculiar underworld of rare-book theft, De Caro joins a rogue's gallery that features flamboyant eccentrics, disgruntled employees, corrupt academics—even a serial killer.
While the criminal personalities vary, according to the elite detectives who hunt book thieves, they all share something in common: base greed and a knack for gaining insider access to the cozy, exclusive world of rare-book collecting.
"It tends not to be your average burglar," Bonnie Magness-Gardiner, manager of the
FBI
's Art Theft Program, said in an interview with
Paste
. "You have to know something about what you're stealing to do it profitably, and for the most part, [book theft] is driven by greed."
The Art Theft Program is a team of
FBI
agents who track "cultural property crimes"—the theft of art and artifacts. Stolen paintings get most of the public limelight, while theft of rare books or manuscripts remains an obscure corner of cultural property crime. In part, that's because it's relatively unusual.
"The thefts are scarce in our business in comparison with other trading activities," Gonzalo Fernández Pontes, the security chair at the Switzerland-based International League of Antiquarian Booksellers (
ILAB
), said. In his own 22 years of operating a bookstore in Madrid, he said only twice did thieves "in a hurry to make some pocket money" try to sell him stolen books.
Pontes explained, however, that thefts can increase after highly publicized book sales, such as last November's record-setting auction of a 1640 copy of the
Bay Psalm Book
for over $14 million.
And books can be relatively easy to steal. Unlike paintings or art objects, Magness-Gardiner said books are "vulnerable because these are items…a person can access and handle," noting that the whole point of a library is to make books available for individual reading. "There is an element of trust in the [library] community," she said—a trust that thieves often exploit.
A classic case is Anthony Melnikas, an Ohio State University art professor busted in 1995 for attempting to sell pages he had cut out of books in the Vatican Library. Melnikas was well-known at the library and a friend of its director.
"You can see how he used his personal connections and trust he established over a lifetime…to commit thefts," Magness-Gardiner said.
When a book theft does occur, the lack of evidence could stump Sherlock Holmes. Even noticing the theft can take years. A stolen painting leaves an obvious blank spot on a wall, but a stolen book leaves an easily-filled gap on a bookshelf. Some thieves, like Melnikas, just cut out the valuable illustrations. And rare documents are often catalogued by the box, not individually.
"For archival material, the first clue we have it's stolen is when it's been advertised for sale," Magness-Gardiner said.
Once the theft is noticed, books are still "special problems." Unlike unique works of art, a book is usually one copy of many in an edition. Tracking down the one specific copy that was stolen is a forensic nightmare; ditto for trying to locate the owners of books found in thieves' hoards. Factor in thieves who hack off identifying library marks, and Magness-Gardiner says the detective work is "extraordinarily difficult."
An archaeologist by training, Magness-Gardiner is not an
FBI
agent herself. Instead, she advises agents on resources and authorities to help them track stolen artifacts. After all, it takes an expert to catch an expert.
Pinning down a suspect is also more challenging than one might think. The rare-book world's knowledge and manners are elitist, but they can be learned by almost anyone.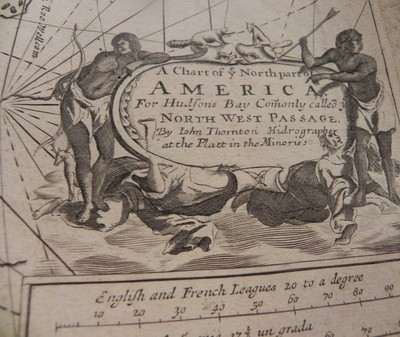 "There's no list of experts," Magness-Gardiner said. "There are people who are self-taught…who are quite expert."
All these challenges converged in the infamous case of thief Edward Forbes Smiley
III
. A well-respected map collector, Smiley ingratiated himself with major libraries by donating maps to their collections. At the very same time, he was hacking rare maps out of books in those and other libraries. After years of unnoticed theft, Smiley was nabbed in 2006 in Yale University's rare-book library after a librarian noticed an X-Acto knife blade on the floor.
The
FBI
still has books and maps confiscated from Smiley whose owners remain unknown. Last summer, it issued an unusual
public appeal
for help and released photos of many items (including the photo above of a "Chart of the North Part of America by J. Thornton").
Other Smiley items were returned only after intense detective work according to journalist Michael Blanding, whose book about the case,
The Map Thief
, is due out this year. Blanding told
Paste
that Smiley cooperated with the
FBI
.
"Even so, the recovery of the maps was a long, complex process involving forensic research, including matching paper stains, library stamps and even wormholes to identify which volumes maps were ripped from," Blanding said.
Trusting the word of a cooperating thief only goes so far, and Smiley is suspected of many other thefts.
"We may never know the full extent of Smiley's crimes or recover all the maps he stole," Blanding said.
Online databases of stolen cultural property, including rare books, are used to catch thieves. But there are several different databases with varying contents, and none of them are a one-stop shop for the wary book-buyer.
Interpol, the France-based international police agency, runs one such database. London's Scotland Yard runs another. The
FBI
's National Stolen Art File is also a prominent database, but it only includes cases with U.S. federal jurisdiction and only lists truly unique books.
The best database may be stolen-book.org. Operated by the
ILAB
, it allows member booksellers to post descriptions and photos of stolen books in as little as 10 minutes, with an automatic email alert going to all members around the world. Books added in recent years include a 1589 Bible and first editions of everything from
Winnie the Pooh
to
Naked Lunch
.
The simple system works. One recent example: a couple used a forged £12,000 check to steal a first edition of the James Bond novel
Casino Royale
in London, then they tried to quickly sell it in New York City.
"They were completely unaware of how
ILAB
's information email system works, and this led to their arrest,"
ILAB
Security Chair Pontes said.
But the
ILAB
's system is only as good as its members. Among those charged in the Girolamini library looting conspiracy, three are auctioneers and booksellers who are
ILAB
affiliates.
"The Girolamini affair is very complex, and it will take years to have all the pieces of this jigsaw in their correct position," Pontes said, noting the booksellers have yet to go to court. But he insists ethical integrity must be at the heart of the industry, or it will fail.
"We say that in our trade, 'to build up a reputation takes the whole professional life, but you can lose it in half an hour,'" he said.
The
FBI
's Magness-Gardiner believes increased awareness and skepticism from book-buyers would help.
"The more the rarity goes up, the deeper you want to go in checking," she said. That means looking at databases, asking for paperwork on the book's previous sales and checking the seller's reputation in the community and the industry. But it all begins with a simple, easily-forgotten question.
"Ask the seller where the item came from," Magness-Gardiner said. "I personally would not accept 'I don't know' for an answer."
A Rogue's Gallery of Book Thieves
Anders Burius
, the former head of the National Library of Sweden's manuscript department, committed suicide (and accidentally blew up his apartment) in 2004 after authorities realized he was stealing books from his own workplace. The
FBI
located and returned some of his bounty last year, but many books remain missing.
William Jacques
, an oil-company accountant dubbed the "Tome Raider" by the British press, was jailed for stealing rare books by Newton, Thomas Paine and others from Cambridge University and other libraries in the 1990s. When he was released, he promptly stole books from the Royal Horticultural Society. Many books remain missing, and he is now banned from all U.K. libraries.
Raymond Scott
, an eccentric British antiques dealer and con man, was imprisoned for attempting to sell a stolen, vandalized copy of Shakespeare's
First Folio
in 2008. The
First Folio
, along with other rare books and documents, had been stolen from Durham University 10 years earlier. Scott showed up for trial in a limousine and committed suicide in prison in 2012.
Gary Evans
, a violent jewel thief and serial killer, was also a self-taught antiques expert. Busted in 1994 for stealing a first edition of John James Audubon's
The Birds of America
from a Vermont library, he got a reduced sentence in exchange for returning the book. He continued stealing antiques until police realized he was a murderer in 1998. Escaping a police van thanks to a handcuff key hidden deep in his nose, Evans killed himself by leaping off a highway bridge.