Art Hostage Services - The Art Hostage team undertakes a wide range of services, including due diligence, collection conservation and management, risk assessment and security as well as legal issues, recovery and dispute resolution involving art and artifacts. Through partnerships with leading organizations, the Art Hostage team can provide a complete service for all aspects of collecting and protecting art.
Thursday, June 28, 2018
Posted by

Art Hostage
at 1:13 pm
No comments:


Friday, June 01, 2018

Former mobster may hold clue to recovery of stolen Caravaggio
The Nativity was stolen in 1969 and could have been hidden in Switzerland
Hopes of solving one of the worst art crimes in history were reignited last night, after Italian investigators announced they had received new information.
Nativity with St Francis and St Lawrence, a Caravaggio masterpiece that was stolen in 1969, could be being hidden in
Switzerland
after it fell into the hands of organised crime, the head of Italy's anti-mafia commission said on Thursday.
The new lead on the whereabouts of the 17th-century painting – a depiction of the newborn Christ on a bed of straw, painted in the chiaroscuro technique – came from a former mobster-turned-informant, who revealed to Italian investigators that it had once been held by Gaetano Badalamenti, a Sicilian "boss of bosses" who was known as one of the ringleaders of an infamous heroin trafficking network in the US called the Pizza Operation.
Investigators announced this week that Gaetano Grado, the mafia informant, said Badalamenti had been put in touch with an art dealer in Switzerland after obtaining the work – also known as The Adoration – from another mafia boss. Badalamenti was arrested in 1984 under the leadership of the then US attorney in New York, Rudolph Giuliani, and was accused and convicted of helping to bring $1.65bn in heroin into the US. He died in a Massachusetts hospital in 2004.
The fate of The Nativity has been a subject of speculation for nearly half a century, ever since two criminals stole the painting out of San Lorenzo Oratory in Palermo, where they used razors to cut the painting out of its frame.
Among theories that have captured the imagination of art history buffs is that the painting – which was long believed to have been stolen by elements of the Sicilian mafia – may have been left to rot in a barn and was eaten by rats.
But this week's news suggested it could yet be recovered.
Rosy Bindi, the head of Italy's national anti-mafia commission, said new evidence suggested that The Nativity was intact and could be in Switzerland, after being sold to art traffickers there.
"We have collected enough evidence to launch a new investigation and ask the collaboration of foreign authorities, especially to the Swiss ones," said Bindi. "We hope to find it and bring it back to its home in Palermo."
The mafia has long been known to have an interest in stealing precious artwork and using it as a form of collateral.
Caravaggio's masterpiece was thought to have been painted by the old master in Rome and later moved to Sicily.
Leoluca Orlando, the mayor of Palermo, who has helped transform the Sicilian capital from a mafia stronghold to a European capital of culture, said the theft of the painting had dealt a blow to the city at a time – in 1969 – when it was dominated by mobsters and godfathers.
"Today this city has changed and is demanding back everything the mafia took away from it," he said. "Even getting back a small piece of it would be considered a victory."
What's the motive for museum thefts?
Two recent museum thefts can be taken to illustrate the thinking behind such crimes. One,
in Nantes
, saw thieves snatch a 16th-century solid gold reliquary containing the preserved heart of a French queen from the Thomas-Dobrée museum. The other,
in Bath
, involved the theft of Chinese jade and gold from the Museum of East Asian Art.
The Nantes theft was carried out in the night between 13 and 14 April, with the thieves breaking in through a window. Although the loss of the heart of Anne of Brittany, which had only gone back on display on the Tuesday of the preceding week, attracted the majority of attention, the thieves
also took
a range of gold coins and medals and a gilt sculpture of a Hindu deity – the latter presumably in the mistaken belief that it too was gold. This theft appears to be a prime example of opportunism. The return to display of the reliquary presumably drew the attention of the thieves and they then took the first available opportunity to take it, and other items that appeared valuable to them at the same time. Little planning was presumably carried out if amongst their haul of gold was a gilt sculpture of far lower financial value. The fact that the reliquary was subsequently buried just outside Saint Nazaire (a nearby town), from where it was recovered after police were led to it following two arrests, indicates that it is unlikely that the thieves had thought beyond the initial 'smash and grab' element of their crime and had not considered how to dispose of their haul.
In contrast – although superficially similar in that the thieves broke in through a window during the early hours of the morning – the theft from the Museum of East Asian Art in Bath on 17 April appears to have been highly targeted. The pieces taken seem to have been selected based on their quality and cultural significance, rather than simply their material, which ranged from
jade to soapstone to zitan wood
, or obvious financial value. The thieves made their selection of objects rapidly and fled the scene in under five minutes before the police could arrive, indicating that significant planning must have gone into the robbery. Again in contrast to the Nantes theft, as yet it appears that none of the material stolen has been recovered, nor have any arrests been made.
This is not the first time that a European museum has suffered from what appears to be a targeted theft of Chinese material. Similar thefts have taken place over the last decade in
Durham
, at the
Fitzwilliam
in Cambridge, and at the Château de Fontainebleau. This kind of crime appears to be carried out with a specific view to then selling the pieces stolen to the Chinese market where it is relatively easy to find a buyer, and the chances of a piece being identified are far lower than if it were offered to the Western art market.
Sadly, museums are particularly vulnerable to targeted thefts such as this. Their very nature, with publicly listed catalogues of their collections (the full collection of the Museum of East Asian Art is available online), and outreach programs to ensure that people are aware of their existence and holdings, means that for those who are seeking particular types of item and are prepared to secure them through illicit means they are almost a shop window for criminals. It is essential that museums resist the temptation to keep their collections private, but their public nature does mean that it is also essential to factor in security when planning exhibitions, building works, and storage.
Equally, museums remain vulnerable to opportunistic theft of pieces on display such as appears to have been the case in Nantes. It is rare, but criminals see the pieces within museums as valuable, and thus worth stealing if an opportunity to do so arises. As in this case though, they rarely have a plan for how to turn that value into cash, and thus end up hiding the items when it becomes clear that they are not as easy to fence as they might have hoped.
Ultimately, for the general public, historians, and museums themselves, the outcomes of these thefts are often sadly indistinguishable: the loss of items integral to their collections. Tackling museum theft is dependent upon financial resources for security and policing, but for museums, especially those with lower budgets, an increased awareness of the types of items likely to be liable to targeted theft, and of the risks of opportunistic theft prompted by publicity, is well worth keeping in mind.
Want your stolen portrait back? Bring us £100,000 cash: What gangsters told Francis Bacon after taking his famous likeness, painted by Lucian Freud, from Berlin art gallery 30 years ago
The masterpiece Portrait Of Francis Bacon disappeared 30 years ago from Berlin
Mail on Sunday can reveal that Bacon received a ransom demand a year later
Barry Joule, Bacon's close friend and neighbour in London's South Kensington, has now revealed that the artist received a phone call in his studio from 'a tough-sounding East End man, probably an associate of the Krays'
It is one of the art world's great unsolved mysteries – the daring theft of Lucian Freud's portrait of fellow artist Francis Bacon.
The masterpiece, Portrait Of Francis Bacon, disappeared without trace after it was removed from its wire frame and spirited out of
Berlin
's National Gallery 30 years ago.
But The Mail on Sunday can reveal that Bacon received a ransom demand a year later in 1989 and was apparently poised to recover the work – only for the operation to be wrecked by a police blunder.
Portrait Of Francis Bacon was spirited out of Berlin's National Gallery 30 years ago. Pictured: Francis Bacon and Lucien Freud
Barry Joule, Bacon's close friend and neighbour in London's South Kensington, has now revealed that the artist received a phone call in his studio from 'a tough-sounding East End man, probably an associate of the Krays'.
During the 1960s, Bacon fraternised with gangsters, among them Ronnie Kray.
Joule recalls: '[The gangster] told him, 'If you want to get yer face picture back, get £100K together and wait by the phone for a call at noon exactly.' '
Francis called Joule who drove his black Porsche to pick up Bacon from his studio and take him to his flat. Even though he didn't own the painting, Bacon then panicked and stuffed £140,000 into a satchel, reappearing 'sweating and nervous'.
They argued over whether to contact police but Bacon was 'dead set against doing that' because he still felt aggrieved by a 1968 drugs bust involving his then lover, George Dyer.
People look towards the wild west-style wanted poster showing the reward for the return of the portrait of the late British artist Francis Bacon in downtown Berlin June in 2001
Instead he alerted the head of security at the Tate gallery, which had bought the picture in 1952 from Freud and had loaned it to the German museum in 1988 when it was stolen.
Then they went back to the studio to await the noon call, but it never came. Leaving the studio several hours later the two men spotted 'three undercover policemen' in a Ford Fiesta. Joule said they all had their 'heads buried in newspapers'.
Convinced the gangsters must also have spotted them, Bacon shouted angrily at the officers.
For weeks afterwards, Bacon 'remained paranoid that the Krays and associates would be 'out to get me for grassing to the police',' said Joule, who added: 'If it wasn't for policemen sitting in their car right outside the building, Francis might have got the stolen painting back.' In a recorded interview with Joule three months after the ransom blunder, Bacon spoke of 'how much the police have gone down in my estimation'.
Bacon (pictured) 'remained paranoid that the Krays and associates would be 'out to get me for grassing to the police'
The 7in x 5in oil on copper was one of the few Freud paintings Bacon really liked, so much so he kept a photograph of it in his kitchen.
Freud later plastered Berlin with 'Wanted' posters of the image, offering a £100,000 reward for its recovery so he could include it in a retrospective of his work.
Although the Tate has never claimed the insurance money, because it has hoped to be reunited with the painting, Bacon, who died in 1992, was more pessimistic. 'Most likely it was burnt,' he says on the recording.
The Tate continues to list the painting in its catalogue, simply noting 'not on display'.
In 2004, Joule gave the Tate 1,200 Bacon sketches. They were then valued at about £20million.
He kept about 120 sketches, and he is lending some to an exhibition in Italy, at the Foundation Sorrento museum, in Sorrento, which opens today and runs until October 21.
Full extent of burglary at Bath's Museum of East Asian Art revealed
With the value of Chinese antiquities on the rise, police suspect the items removed were stolen to order
A complete list of the 48 objects stolen from Bath's Museum of East Asian Art has now been
released
, following a burglary on 17 April. These details reveal just how serious the loss has been. The stolen items include 22 jades, 10 ceramics and a Tang (618-907AD) marriage mirror. Three other objects were damaged, but not taken.
The burglary occurred at 1.20am, when four masked men broke into the museum, which is in a restored Georgian townhouse in Bath, in south-west England. They entered through a first-floor window, smashing seven display cases.
A police spokesman commented that "due to the items stolen and the speed of the burglary we suspect this to be a targeted attack with the artefacts possibly stolen to order". The financial value of Chinese antiquities has risen greatly in recent few years due to growing demand in China. The stolen Bath objects could already have been smuggled out to the Far East.
Immediately after the Bath theft, details of six major items were released: a set of 14 gold belt plaques, a jade monkey, a jade sculpture of mandarin ducks, an inlaid wooden box, a soapstone figure of the scholar Dongfang Shuo and a Jizhou stoneware vase. Information on the other 42 pieces has now been released.
In 2012, the Museum of East Asian Art was targeted by three thieves while the building was open to visitors. An alarm sounded and the men fled.
The latest theft has been particularly distressing for Brian McElney, a retired lawyer from Hong Kong who moved near Bath and set up the museum in 1993. With 2,000 items, it is the UK's only museum dedicated to East and South-East Asian art.
Although the museum reopened on 5 May, the first floor remains closed. A fundraising appeal has been launched to help with the costs of replacing the damaged cases and reopening the display.
Police seek man in connection with Masterpiece fair jewellery theft
The Metropolitan Police are trying to trace the whereabouts of a man wanted in connection with a high-value theft of jewellery at last year's 'Masterpiece London' fair.
They have released an image of the man they believe to be Vinko Osmakcic, a Croatian national thought to be responsible for a number of high-value diamond thefts throughout Europe.
At the 2017
Masterpiece
fair at the Royal Hospital Chelsea, three rings were stolen with a combined value of over £2m from the stand of Switzerland-based jewellery dealer Boghossian.
Det Sgt Chris Taylor from Kensington and Chelsea CID, who is leading the investigation, said: "This was a well-planned and audacious theft committed in the middle of a busy art fair.
"We are re-releasing the image of Mr Osmakcic in an attempt to trace him. It is highly likely that Mr Osmakcic may be out of the UK, possibly in Europe. He may also be known by the following names: Vinko Tomic or Juro Markelic."
The items taken were a cushion-shaped diamond ring, a vivid yellow cushion-shaped diamond ring encased in smaller oval and round-shaped diamonds, an emerald-cut diamond ring with purple and pink stones, and four pear-shaped diamonds. All three rings have diamond-encrusted bands.
Six-day remand for suspected 'Pink Panther' member
A man, 48, suspected to be a member of the international 'Pink Panther' gang, was remanded for six days by the Limassol District Court on Saturday.
On Friday, police arrested the man from Montenegro for armed robbery on a Limassol jewellery shop almost ten years ago. An international arrest warrant was also issued for a second man regarding the same case.
Authorities issued a European arrest warrant for the 48-year-old suspected of robbing €212,000 worth of jewellery from the shop on February 28, 2009.
The man was initially arrested in Spain, on March 1, and following the cooperation of the Spanish authorities, Cyprus' Interpol, and the Limassol police, he was brought to the island on Friday afternoon, where he was arrested.
Police are continuing their investigations.
Interpol ran an operation on the Pink Panthers gang from 2007 to 2016, and according to the international authority the network is suspected to have carried out approximately 380 armed robberies from 1999 to 2015.
The organisation is believed to have targeted high-end jewellery stores, and the combined value of their robberies is estimated to have been approximately €334 million.
Stolen £1m painting returned to owners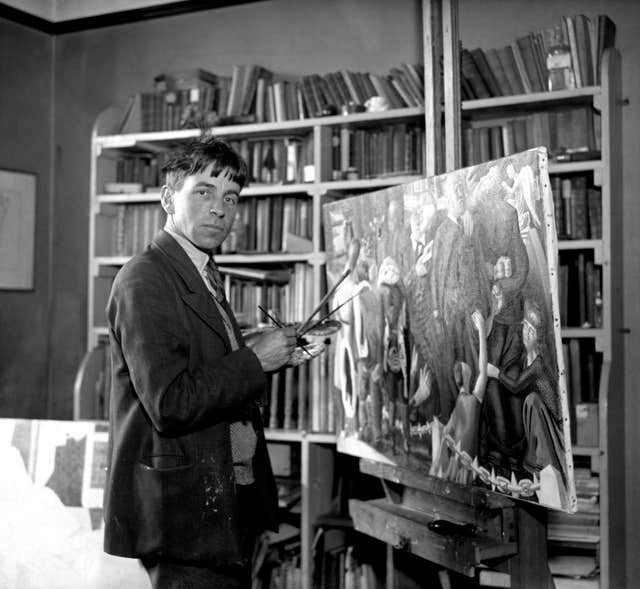 Sir Stanley Spencer at work in his studio in Cookham (PA)
A £1 million painting stolen six years ago has been returned to its owners after it was discovered in a drug dealer's den.
The work, by Sir Stanley Spencer and titled Cookham from Englefield, was taken from the Stanley Spencer Gallery, Berkshire, in 2012.
Its whereabouts remained a mystery until police arrested Harry Fisher, 28, in June last year after finding a kilogram of cocaine and £30,000 in cash in his Mercedes.
Officers discovered the artwork under a bed next to three kilograms of cocaine and 15,000 ecstasy tablets when they searched his flat in Kingston-upon-Thames, west London.
A further raid on his family home in Fulham found more Class A drugs, making a total street value of £450,000, and £40,000 in cash.
Fisher was jailed for eight years and eight months at Kingston Crown Court in October, having pleaded guilty to conspiracy to supply Class A drugs, acquiring criminal property and handling stolen goods, Scotland Yard said.
His passenger at the time of arrest, Zak Lal, 32, of Rochester, Kent, was jailed for five years and eight months after admitting conspiracy to supply Class A drugs, acquiring criminal property and possession of an offensive weapon, police said.
The Department for Digital, Culture, Media and Sport (DCMS) said the painting's owners, who were "devastated" at the loss, were finally reunited with the artwork last month.
Arts Minister Michael Ellis said: "Spencer is one our most renowned painters and a true great of the 20th century. It is wonderful that this story has had a happy ending and the painting has been returned to its rightful owners."
Detective Constable Sophie Hayes, of the Metropolitan Police's art and antiques unit, said: "The art and antiques unit was delighted to assist with the recovery and return of this important painting.
"The circumstances of its recovery underline the links between cultural heritage crime and wider criminality.
"The fact that the painting was stolen five years before it was recovered did not hinder a prosecution for handling stolen goods, demonstrating the Met will pursue these matters wherever possible, no matter how much time has elapsed."
Described by the Stanley Spencer Gallery gallery as one of "our greatest British artists", Sir Stanley often used the Berkshire village of Cookham as inspiration for his work during a 45-year career.
He died in 1959.
Posted by

Art Hostage
at 5:38 pm
No comments: