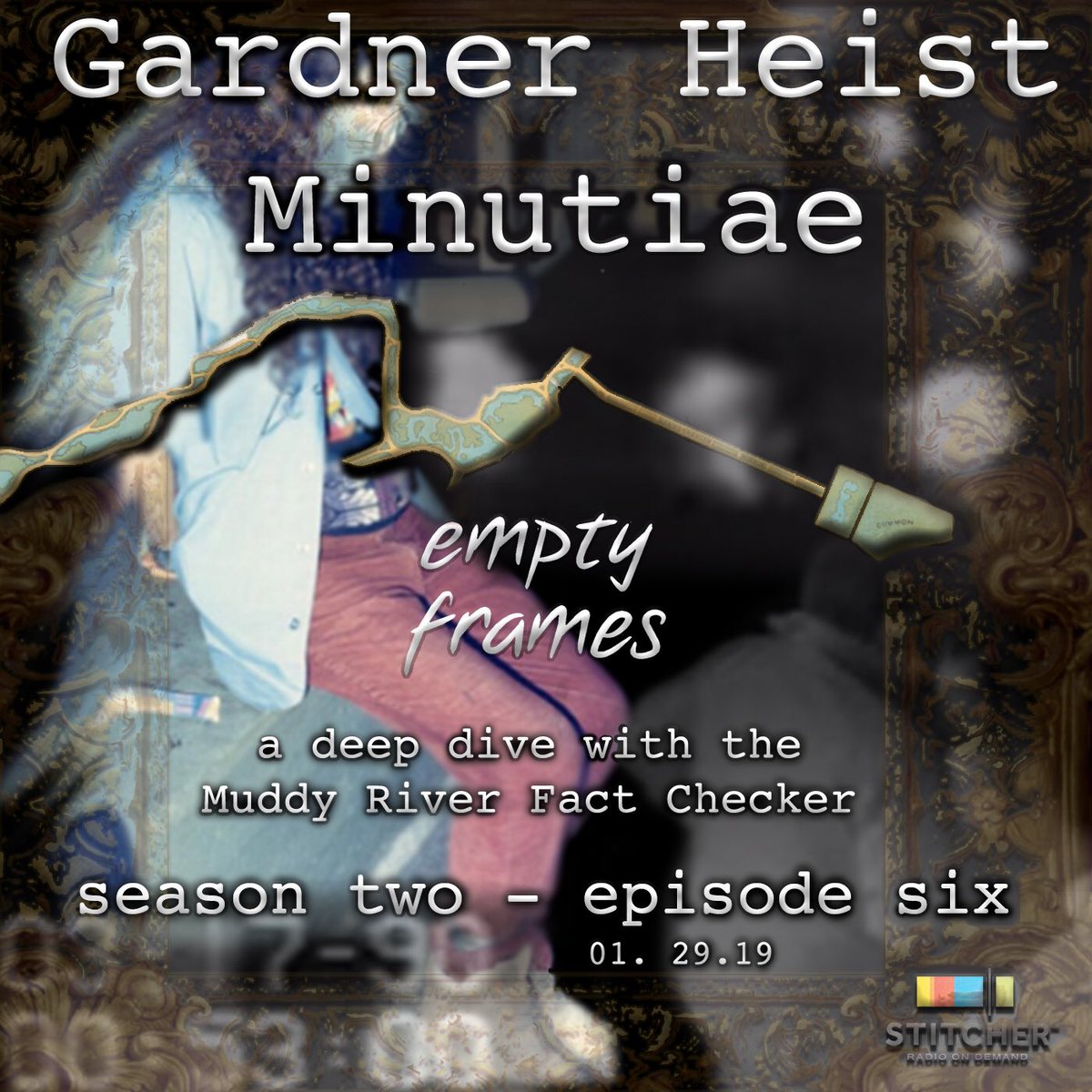 New episode! In our season 2 finale we chat with our pal the Muddy River Fact Checker and get into some Gardner Heist Minutia. Subscribe now at
http://
StitcherPremium.com
!
#
podcast
#
truecrime
#
gardnerheist
#
gardnermuseum
#
art
#
artheist
#
artcrime
Police believe stolen 17th-century Swedish crowns and orb recovered
Swedish crown jewels stolen by thieves
The trial into the theft of an orb and two 17th-century royal funeral crowns from a Swedish cathedral took an unexpected turn on Tuesday, Feb 5th 2019 amid reports that some of the missing items have been found.
Shortly before the proceedings opened, Stockholm daily Aftonbladet reported that a security guard found some of the items in a garbage container in a Stockhholm suburb early Tuesday. The newspaper cited unnamed sources.
Prosecutor Reena Devgun told the Eskilstuna district court that the proceedings would have to adjourn to allow the items to be inspected, Swedish television SVT reported.
Tuesday was the third day of the trial.
Police later issued a statement saying 'everything suggests' that the regalia have been found, adding that 'police were working intensely to confirm this 100 per cent.'
The man on trial, Nicklas Backstrom, is charged with stealing a gold funeral crown, an orb made for King Charles IX (1550-1611), and a crystal-studded gold crown made for Charles' second wife, Kristina the Elder.
He has denied the charges although traces of his blood were found in the Strangnas Cathedral, west of Stockholm.
The court ruled that the hearing would adjourn after witnesses had given testimony, and said the prosecution was latest Friday to report back to the court.
The items were valued at 65 million kronor (7.2 million dollars). The prosecution, art experts and the church have designated the items as 'irreplaceable' and part of the national heritage.
Russian Art Thief Confesses to Stealing Painting to Settle Debts — Reports
Denis Chuprikov / Interior Ministry
The suspect in one of the most brazen art heists in recent history has confessed to having stolen prominent artist Arkhip Kuindzhi's painting over the weekend to pay for his debts, Russian media have reported.
Kuindzhi's 1908 "Ai Petri, Crimea" was briefly stolen from Moscow's Tretyakov Gallery on Sunday before police recovered it in a basement on the outskirts of the city. The suspect, identified as Crimean native Denis Chuprikov, 32, initially said he did not remember what had happened that day.
Citing the investigation, Russia's Kommersant newspaper reported that Chuprikov had acknowledged the crime after police showed him surveillance video of the heist, which shows how a suspect casually lifts the painting off the wall and strolls past visitors.
"Chuprikov confessed to the theft, saying that he had decided on it spontaneously because of debts," Kommersant
reported
Monday, citing unnamed sources.
Police are looking for possible accomplices in what they are treating as a pre-planned heist of an object of special cultural value, a crime that carries a jail term of up to 15 years.
Read More
A Daring Theft in a Moscow Museum
"Ai Petri, Crimea", a mountain scene, is worth around $1 million, state television said, though it was insured for only around $200,000. Chuprikov reportedly has a criminal record, including charges of drug possession and police disobedience pressed in the last few months.
Police
said
that the artwork had been put up on sale on a popular online marketplace for a mere 2.5 million rubles ($37,000).
"In a rating of the most stupid crimes of the 21st century, he has grounds to deserve an honorable mention," Vladislav Kononov, a Culture Ministry official, was cited as saying.
Oops! British Aristocrat Accidentally Bought Stolen, 7th-Century Sculptures As 'Garden Ornaments'
In 2004, two chunky limestone reliefs depicting
Catholic saints
were stolen from a medieval church in Burgos, Spain. The reliefs dated to the seventh century, weighed about 110 lbs.(50 kilograms) apiece and were thought to be worth many millions of dollars. Earlier this week, professional art detective Arthur Brand found them — moldering in the dirt and leaves of a British country garden.
"The thieves wanted to sell [the reliefs] and make a lot of money, but soon found out they stole world heritage that would be extremely difficult to sell," Brand told the
French news site AFP
(Agence France-Presse). "So, they decided to sell them as garden ornaments." [
30 of the World's Most Valuable Treasures That Are Still Missing
]
According to AFP, those "ornaments" were purchased several years ago by a well-off British aristocrat who had no idea about their true provenance. Brand, who spent eight years tracking the reliefs from dealer to dealer across Europe, estimates that the unwitting aristocrat probably spent about $65,000 (50,000 pounds) apiece to add the artifacts to his estate's garden north of London.
Sounds expensive for a trumped-up lawn gnome — but the buyer actually got an epic deal. The true value of the reliefs, Brand told AFP, is "
priceless
."
"You can imagine how horrified they were to learn that their garden ornaments were in fact priceless stolen Spanish religious art," Brand said. "They got quite nervous, because these priceless 1,300-year-old artifacts that were made for the Spanish sun were in their garden, exposed to the English rain."
Following this revelation, the artifacts were safely returned to the Spanish embassy in London on Monday (Jan. 21), AFP reported. They will be restored to Spain's Santa Maria de Lara church, which was declared a national monument in 1929. The church was built more than 1,000 years ago by
Visigoths
— a Germanic culture that ruled much of France and the Iberian peninsula between the fifth and the eighth centuries — and is thought to be one of the oldest Catholic churches in Spain, the director of the nearby Burgos Museum told Spanish news site
El Pais
.
Brand has been nicknamed the "Indiana Jones of the art world" for his impressive track record of relocating stolen objects. Some of his notable finds include a
1,600-year-old mosaic
stolen from a church in Cyprus when Turkey occupied the country in 1974 (and finally recovered from a family in Monaco in 2018), two
bronze horse sculptures
commissioned by Adolf Hitler during World War II, and numerous works
stolen from Jewish families
during the Holocaust.
Irish surgeon who staged burglary to claim £180k in 'stolen art and jewels' is found guilty – but wife cleared after saying she had no clue of family cash
Anthony McGrath, 46, claimed antiques, artwork and jewellery were stolen from his home in Hertfordshire
A LEADING surgeon has been found guilty of faking a burglary to make a £180,000 bogus insurance claim.
Anthony McGrath, 46, claimed antiques, artwork and jewellery were stolen in a break-in at his rented cottage.
The audacious scam even included a supposedly lost 19th century Rococo red marble fireplace.
But the orthopaedic surgeon's scheme was uncovered by police who spotted pictures he supplied of the items had been taken AFTER the break-in.
Officers raided his family's stately home in Ireland and found antique furniture, paintings, crystalware and jewellery he claimed were missing.
Luton Crown Court heard flashy McGrath had been renovating his new £1.1m home in St Albans, Herts, but his spending had 'run out of control'.
His debts had spiralled to more than £1million.
McGrath was found guilty of four counts of an insurance scam fraud, perverting the course of public justice, and three charges of mortgage fraud.
WIFE CLEARED OF ANY WRONGDOING
His GP wife Anne-Louise McGrath, 44, was cleared of any involvement following the four-month trial.
She had told the court that with young children to care for and an ailing mother she left much of the family's financial affairs to her husband.
Three mortgage applications were submitted by Mr McGrath to Lloyds Bank between 2012 and 2015 supported by forged documentation in relation to his and his wife's earnings.
Antiques were also among the 95 items he claimed were stolen A forged 'employment and income reference' purportedly sent from the HR department of a hospital in Southampton where McGrath was working during 2012 had inflated his earnings by nearly £10,000.
Before the scam, the surgeon had been trying to raise funds by selling off antiques
Group of Seven painting worth $200,000 stolen from Toronto home
Toronto police say the painting called "Sun Gleams: Autumn, North Saskatchewan" is an original piece of art by A.Y. Jackson.
TORONTO — Police say a Group of Seven painting has been stolen from a Toronto home.
Toronto police say the painting is an original piece of art by A.Y. Jackson and was stolen along with other items.
They say officers were called about the break-and-enter on Friday where the painting called "Sun Gleams: Autumn, North Saskatchewan" was reported missing.
Investigators say the painting is oil on canvas and is worth more than $200,000.
The Group of Seven consisted of painters best known for capturing Canadian landscapes in their work.