Hatton Garden cops close in on elusive raid fugitive known as 'Basil'
Officers have also arrested a new suspect on suspicion of handling some of the still missing £10million of loot
The elusive fugitive known as Basil
Detectives are closing in on the elusive

Hatton Garden

raid fugitive known as "Basil" after quizzing his fellow gang members in jail.
They have also

arrested

a new suspect, held on suspicion of handling some of the £10million loot still missing from Britain's biggest theft.
The 33-year-old was bailed until later this month.
Safe-cracker Basil, thought to be in his 50s, has eluded justice while the six others in the gang, most aged in their 60s and 70s, have been jailed for up to seven years.
The April 2015 bank holiday raid on the safety deposit vault in London's jewellery quarter netted an estimated £14million.
The raiders broke into Hatton Garden
Flying Squad

officers

confirmed they have spoken to some of the gang as they continue their hunt for Basil.
In all, five men have been questioned under caution about Basil and the missing loot.
The lanky burglar was dubbed "The Ghost" when he vanished after the raid.
A biography of mas­­termind­ Brian Reader, 77, reveals how
a gang insider believes detectives have known Basil's identity for months.
The source suspects he has fled abroad, saying: "The police will watch his house... he'll probably come back in a couple of years and hand himself in. Police won't have much on him."
A still from the film The Hatton Garden Job
In July the team spearheading the hunt for the master burglar again denied having any idea who he is.
Scotland Yard

refused to comment this week, saying that officers will not provide a "running commentary" on their investigation.
Basil became Reader's partner in crime to help him deal with modern technology.
The book, One Last Job, tells how they met in the 1990s when Reader saw the "alarm man" and computer expert would be a valuable addition to his team.
Basil, originally from the South East, is around 6ft and slightly built.
He is from a respectable middle-class family and his father died when Basil was young.
A gang insider said: "He's a kid who found things out using his own initiative­.
"He's a problem solver. He would be shown how to open a door or pick a lock and then he would go away and improve on it... He was always very surveillance-conscious."
Basil is thought to have pulled off several burglaries and the gang's hierarchy was split between Basil and Reader, the only true specialist burglars on the team.
Scotland Yard said a man aged 53, held last year on suspicion of conspiracy to handle stolen goods, is on bail along with the 33-year-old who was arrested on May 19.
A man in his 40s was freed with no further action.
A film about the raid, starring ex-EastEnders actor Larry Lamb and Downton's Matthew Goode is now in production.
Hatton Garden: Secrets of Tory abuse cover-up that even made heist boss sick
Brian Reader and his gang found sickening images featuring a prominent Tory cabinet minister during a massive raid in 1971, according to an insider
Bankers stopped police from uncovering an alleged Tory child abuse scandal unwittingly stumbled on by burglars, a new book claims.
Master thief Brian Reader and his gang found sickening images featuring a prominent Tory cabinet minister during a massive raid in 1971, according to an insider.
The crooks allegedly discovered the vile pictures after tunnelling into a branch of Lloyds in London's Baker Street and rifling through scores of safety deposit boxes.
Reader – who four decades later masterminded the £14million Hatton Garden heist which also used tunnelling – was said to be disgusted by the images.
But despite claims that the gang left the evidence scattered across the floor for police to find, nothing was ever done – and the pictures never emerged.
Last January the Mirror reported how Reader's gang had left the damning photos for cops, hoping the paedo politician would be brought to justice.
Now, 45 years on, it has been revealed that bank staff were "extremely uncooperative" with police, refusing to provide a full list of safety deposit box holders or let them remove property from the vault.
The Baker Street heist has gone down as one of the most infamous in British history. A gang dubbed the "millionaire moles" tunnelled 40ft under Baker Street – famed as the HQ of detective Sherlock Holmes – and blasted their way into the Lloyds branch.
They stole £3.5million from 268 boxes – worth the equivalent of £40million today – making it ­Britain's biggest ever burglary.
For years the main gang members were never known.
But in a new Mirror book, One Last Job, it is claimed that Reader – now aged 77 and serving six years for his part in 2015's Hatton Garden heist – had a leading role.
A close confidant of Reader said: "It was a shock for the gang when they found photographs of a famous ­politician abusing children.
"They were disgusted and left the photos lying on the floor of the vault for the police to find but nothing was ever done."
Freshly unearthed documents found in the National Archive reveal there was a "heated argument" between detectives and bank officials inside the ransacked vault.
Police were never even told about any alleged pictures the raiders left and the bank refused to reveal the names of safety deposit box holders without their permission.
The documents suggest bank staff were concerned with protecting their clients' privacy above all else.
An internal Scotland Yard memo from 1975, now released, stated: "There was a considerable quantity of property left in the vault and tunnel but after a heated argument with bank officials they took possession of it.
"This property was never handled by police and to this day it is not known what that ­property consisted of or its value."
After the raid, detectives wrote to Lloyds asking for details of all deposit box holders and a breakdown of their visits to the vault.
This was prompted by suspicions that one of them could have gained the "knowledge of the room" required to pull off the heist.
But Lloyds' head of security refused, saying it was "a fundamental concept" of British banking to preserve secrecy over the affairs of those who used its services.
An internal police memo from one of the first officers on the scene, Detective Sergeant Barrie Newman, stated: "The vault was in complete disarray with property, including jewellery etc, being scattered about the floor.
"Any property dropped by the thieves was, in fact, retained by the bank on their insistence that it was on their premises and their responsibility. Police are not in a position to say what was left behind and what the bank did with this property."
Some of the victims of the robbery took civil action against Lloyds and senior officers were asked to provide High Court statements.
Drafts of several statements are in the National Archives.
In one dated 1974 former Detective Chief Inspector John Candlish said: "Whilst the bank provided us with every facility which we required during our investigations they were extremely uncooperative when it came to dealing with the stolen property itself."
Another was from Commander Robert Huntley, who described the disagreement between police and bank staff over who should get "custody" of items taken from safety deposit boxes but left on the floor.
He added: "I recall that there were various inspectors of the bank at the premises and I spoke to the chief inspector and the manager who told me that they had decided not to hand over the property.
"This was probably on the basis that they felt a duty of secrecy to their clients."
When the bank did finally provide a list of box holders it was incomplete.
Reader, who will be played in next year's film The Hatton Garden Job by former EastEnders star Larry Lamb, has never confessed to being on the Baker Street raid – but several sources insist that he was there.
Two of his old gang members were eventually convicted.
One was car dealer Reg Tucker, 37, who had rented a deposit box and visited the vault more than a dozen times, using his umbrella to measure its dimensions.
Also convicted was Tony Gavin, 38, a barrel-chested former Army PT instructor who lost a stone and a half while digging the tunnel.
Excavations began from the basement of Le Sac, a leather goods shop an associate had leased two doors along.
One gang member who said his doctor had told him to avoid confined spaces was posted as a lookout on a nearby roof, later becoming known as "Sleepy Bob" for complaining about being tired. The blast to blow a hole into the bank vault was timed to coincide with a traffic light turning green so the noise would be masked by rumbling traffic.
Gavin and Tucker were later jailed for 12 years along with two minor gang members. Reader was believed to have jetted off to Spain while the rest of the team were never caught.
The 2008 film The Bank Job, starring Jason Statham, suggested MI5 orchestrated the break-in to steal compromising pictures of Princess Margaret with a lover.
But the gang insider insists reality was even stranger – and even more disturbing – than fiction.
Ukraine hands back stolen paintings to Dutch museum
Kiev authorities handed over to the Netherlands five masterpieces stolen from a Dutch museum in 2005 and recovered in Ukraine earlier this year.
The paintings - part of a group of 24 works valued at 10 million euros when they went missing in 2005 - were said in December to have been discovered in a villa in a pro-Russian separatist controlled area of eastern Ukraine.
Dating from the 17th and 18th centuries, they will now head back to Westfries Museum in Hoorn, north of Amsterdam, from where they first disappeared when thieves hid in the building before closing time and disabled the alarm system before making off with the artworks.
"I can't wait to see these beautiful objects of art back in the place where they belong," Westfries Museum director Ad Geerdink said at a handover ceremony at the Dutch embassy in Kiev. "It will feel like some of our lost sons finally come home."
The Dutch foreign ministry listed the five paintings as Jacob Waben's "Vrouw Wereld" (Lady World) and "Terugkeer van Jefta" (The Return of Jephta), "Keukenstuk" (Kitchen Scene) by Floris van Schooten, Hendrick Boogaert's "Boerenbruiloft" (A Peasant Wedding) and "Nieuwstraat in Hoorn" (New Street in Hoorn) by Izaak Ouwater.
"It's still not clear where the other paintings are and how long it will take to recover them," it said in a statement.
Arrest made in $3 million jewelry theft from rapper Drake's tour bus
An Arizona stagehand was arrested on Wednesday on suspicion of stealing about $3 million in jewelry from a bus used by Grammy-winning rapper Drake on his latest concert tour, Phoenix police said.

The suspect, identified as 21-year-old Travion King, snatched the briefcase after boarding the bus at about 10 p.m. on Tuesday at the Talking Stick Arena in Phoenix, police spokesman Vince Lewis said.
King has done unspecified contract work with local entertainment venues in the past, but was not known to be employed for work for that particular show, Lewis added.
The bus was being used for a Phoenix show featuring Drake and his fellow rapper Future. It was apparently unoccupied at the time and the jewelry did not belong to Drake, according to Lewis.
Drake and Future were appearing in the city's downtown as part of the "Summer Sixteen Tour," which began in July, according to the event website. It was scheduled to resume on Wednesday in Los Angeles.
A representative for Drake declined to comment on the case on Wednesday.
King was being held at a Maricopa County jail, Lewis said.
He was first arrested around 3 a.m. in a separate matter by Arizona State University Police in Tempe, a Phoenix suburb, on suspicion of trespassing after officers found him in a dormitory with a bag that held the stolen jewelry, Lewis said.

Then, just before police released him on Wednesday afternoon, detectives investigating the jewelry theft learned he was being held at the jail and arrested him on suspicion of burglary, Lewis said.
Portions of King's activity were captured by arena surveillance cameras, Lewis said.
Officers are working with the victim to account for the items reported stolen, Lewis said.
Greta Moll's Heirs Say Stolen Portrait Is at London Museum
Lawsuit says U.K's National Gallery should have known better

Painting entrusted to student then illegally sold, family says
More than a century after she sat for a portrait by Henri Matisse, Greta Moll is still an object of desire.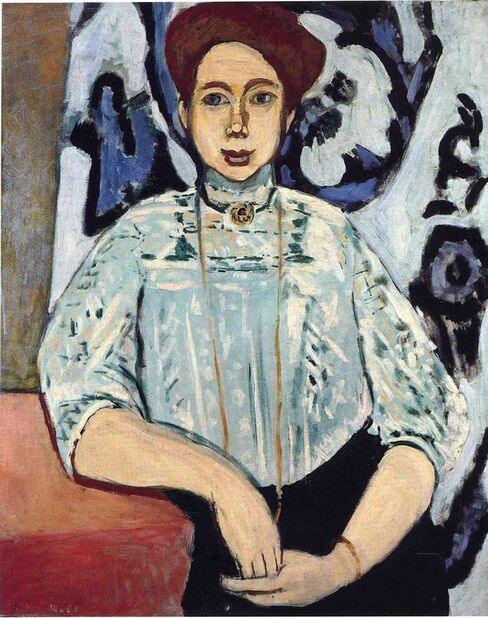 The National Gallery in London was sued in the U.S. by three of her grandchildren who claim the museum wrongfully acquired the 1908 portrait, decades after the work by the famed French artist was allegedly stolen in the wake of World War II.
Moll, who had been a student of Matisse's, died in 1977 without ever knowing what became of the painting. Two years after her death, the museum bought the work from a London gallery for an undisclosed sum. The grandchildren sued for $30 million.
The National Gallery ignored the red flag that the work had been transferred to a gallery in New York immediately after the war, according to the suit filed Wednesday in Manhattan federal court. The museum, aware of the legacy of stolen art from the war, never asked Moll's family members in U.K. how she'd lost the painting, they said.
"In many such cases where war-related looting and other losses occurred, the possessors of such property eventually did the right thing and returned the lost artworks," Oliver Williams, Margarete Green and Iris Filmer, who are cousins, said in the complaint in federal court in Manhattan. "The National Gallery has ignored the international legal standard."
The National Gallery's press office said it had received the complaint and declined to comment.
Paintings and other artworks by European masters have been at the center of numerous international legal disputes, usually over claims they were stolen by Nazis from wealthy Jews who were robbed of their possessions or murdered in the Holocaust. The cases have often pitted aggrieved descendants against famous dealers and art institutions that may have inadvertently come into possession of stolen works.
Matisse Students
Moll sat for Matisse while she and her husband Oskar were his students in Paris, according to the suit. Oskar Moll bought the painting from Matisse before he and Greta moved back to Germany to teach and sculpt, the family members say. The work, known simply as
"Portrait of Greta Moll,"
came to be regarded as a masterpiece of Matisse's fauve period, and it was hung prominently in the
Museum of Modern Art
in Manhattan in a 1931 Matisse retrospective, according to the suit.
As the Nazis rose to power, the Molls came to be regarded as degenerates and "Bolshevist," according to the suit. In 1933, Oskar Moll was fired from his job as a professor at the Dusseldorf Academy of Art, while one of Greta Moll's sculptures was included in the 1937 "Degenerate Art" exhibition in Munich, according to the complaint.
By 1944, as the war raged, Greta Moll watched her home in Berlin burn to the ground after an Allied attack. But by then she'd moved the painting and other valuables to a friend's house outside the city. Oskar Moll, who nearly starved to death during the conflict, died in 1947, according to the suit. Greta Moll, left as the sole owner of the painting, believed it was still in danger after Germany fell to the Allies and decided to move it outside the country altogether before she moved to the U.K. to live with her daughter's family in Wales, according to the suit.
"In order to protect the painting from the danger of looting by Allied troops and in particular from Russian troops who were known to have looted artworks and other valuables, they decided to have it sent to Switzerland for deposit with an acquainted art dealer for safekeeping," according to the complaint.
Moll entrusted the painting to an art student who was supposed to secure it in Switzerland, but the student sold the painting instead and fled to the Middle East, according to the suit. The work was then sold in 1949 to a gallery in New York, Knoedler & Co.,
which is now closed
. The gallery should have been aware that the Molls were the actual owners because they were listed as such when the painting was hung in the Museum of Modern Art 18 years earlier, according to the suit.
True Owner
"When Knoedler acquired the painting it should have inquired into the circumstances of the transfer of title from Oskar Moll and Greta Moll, especially since neither of them was the seller," according to the complaint. "Since Knoedler did not acquire title from Greta Moll, the true owner of the painting, neither Knoedler nor any of the painting's subsequent owners, including the National Gallery, obtained good title."From New York, the painting was sold by Knoedler to oil baron Lee Blaffer in Texas, then to a private collection in Switzerland, then to the Lefevre Gallery in London, according to the suit. The National Gallery bought the portrait from the Lefevre Gallery in 1979, two years after Greta Moll died, according to the suit. The Lefevre Gallery
closed
in 2002.
Williams, Green and Filmer are the children of the Molls's two daughters, their attorney David Rowland said in an interview. He said the cousins were barred from suing in U.K. due to a 1992 law that forbids the National Gallery from dispensing any of its objects.
The case may have a hard time surviving in federal court, said Thomas Kline, of counsel at Andrews Kurth LLC, who has represented claimants, collectors and museums in several restitution cases, because the plaintiffs and two out of three defendants are U.K. citizens.
The only U.S.-based defendant is a charity known as the American Friends of the National Gallery of Art, London, according to the complaint.
"The only reason plaintiffs sued here is to avoid the U.K. law that forbids the museum" from selling works from their collection, Kline said. "This is a dispute between all U.K. parties concerning a painting in the U.K. I think a U.S. court would have discretion to decline jurisdiction."
No Connection
The American Friends of the National Gallery of Art never had a connection with the Matisse painting, said Art Hickok, the group's administrator.
"We have no formal economic connection other than we are a charity that supports them," he said. At least two directors of American Friends are also on the board of the National Gallery, according to the websites.
There may be another complication to the case too, Kline said.
"If something is given to a friend for safekeeping and there is a personal relationship of trust it's very difficult to sort out what really happened 70 years later if there's no paperwork," he said.
The case is Oliver Williams v. The National Gallery of Art, London, 16-cv-06978, U.S. District Court, Southern District of New York (Manhattan).
Drouot Auction House Trial Ends With Thirty-Eight Jailed For Theft
The trial in Paris involving many of the porters and auctioneers at the renowned Hotel Drouot auction house has ended with the jailing of 35 porters and three auctioneers. The defendants, who transported and stored objects destined for sale by Drouot, were found guilty of helping themselves to treasures including diamonds and a painting by Marc Chagall. They were sentenced to up to three years in jail, with 18 months suspended, and fined 60,000 euros ($67,000). Three auctioneers were also convicted in the scandal that shook the French art world, with the three receiving suspended sentences of up to 18 months plus fines of 25,000 euros.
The auction house had been riddled with scandal when valuable art, antiques and gems worth millions of euros went systematically. This was the charge on the opening day of a trial back in March, which has sent shudders down the corrupt spine of a barely regulated industry. Porters from Paris' most famous auction house are accused of unlawfully taking 250 tonnes of consigned goods which included a painting by Marc Chagall and rare Ming dynasty porcelain. The trial continues until April 4.
Forty Porters known as "Col Rouge" (red collars) after their uniforms and six auctioneers from the Le Drouot are on trial for charges of gang-related theft, conspiracy to commit a crime or handling stolen goods. The case against the employees was launched in 2009 after an anonymous tip alerted investigators to a painting by Gustave Courbet that disappeared while being transported in 2003. Investigators allege institutionalised theft by the porters -- known as "Les Savoyards" as all members of the secretive group came from the Alpine region of Savoie.
Police Raids have uncovered a treasure trove that went missing and has exposed the lavish lifestyle of the porters involved. One according to reports flaunted it by driving a Porsche 911 and the latest BMW cabriolet, while another purchased a Paris bar with the ill-gained goods. The porters pilfered items sent to the auction house after house clearances of wealthy people who had died. Most items were not on the inventory. Some items were apparently then sold at auction at Le Drouot.
"La yape" which means "theft" in Savoie slang -- was endemic and profits were shared among the group. The "Col Rouge", who wear black uniforms with red collars, have monopolised the transport and handling of valuables for the Hotel Drouot auction house since 1860. Membership of the union is tightly controlled and limited to 110. Each new member was apparently brought into the fold by an existing member, and according to some testimonies, the initiation process involved stealing something and sharing the proceeds with fellow insiders.
THIRTY WORKS OF ART RECOVERED IN TORREVIEJA
Alicante's Civil Guard in Alicante has arrested a Spanish man aged 51, as it continues to investigate two others, a 37 year old woman of Brazilian nationality and another Spanish National on suspicion of several counts of theft, aiding and abetting, the illegal possession of weapons, crimes against cultural, historical and artistic heritage and fraud.
Investigation first began after the allegation of the theft of nearly 400 bee hives on farms located in different municipalities of the Vega Baja. The thefts occurred in the towns of Formentera de Segura, San Isidro and Guardamar del Segura over the last 18 months. It would appear that the group were both selling the hives and claiming that they had been stolen, thus also profiting from fraudulent insurance claims to a value of approximately 21,000 euros.
However, during the investigation, there were a number of additional offences that surfaced suggesting that they were involved in other shady deals.
It appeared that one of the trio, from Almeria, was a builder. He also ran an antique shop, which could be used as a cover for the sale of stolen goods.
Agents discovered that he was offering various pieces of art at knockdown prices for between 3,000 and 18,000 euros. Among the items for sale was a well known wooden carving of the Immaculate Virgin, dated between the seventeenth and eighteenth centuries, originating from la escuela Granadina de Alonso Cano
The man was also involved in the robbery of a house in a town of Almería, which took place in 2006, from which several firearms had been stolen, so the agents suspected he could be armed and dangerous.
On obtaining a warrant and searching the house of one of the accused, in addition to 171 beehives and 45 honeycombs, officers found about thirty priceless objects of art, among them paintings by Cecilio Plá, Chinese historical vases, elephant tusks measuring nearly two meters, a metre high bronze horse, an extensive collection of coins and a sword carved from bone.
Many have since been moved to the Department of Culture of the Provincial Council of Alicante where they are being examined to determine their value.
A further house search in the Orihuela village of Mudamiento uncovered further weapons including a Benelli rifle, a KRICO carbine, a Franchi shotgun and an automatic Walther pistol, all from the 2006 burglary of the house in Almeria.